Using pictures in PowerPoint can enhance visual appeal. Learn about the PowerPoint inserting pictures features in this free lesson.
Working with images
Adding clip art and pictures to your presentation can be a great way to illustrate important information or add decorative accents to existing text. You can insert images from your computer, search Microsoft's large selection of clip art to find the image you need, or add a screenshot of your own. Once an image has been inserted, you can resize and move it to the location you want.
Optional: You can download this example for extra practice.
To insert an image from a file:
Select the Insert tab.
Click the Picture command in the Images group. The Insert Picture dialog box appears.

Inserting a picture from a file

Select the desired image file, then click Insert.

Selecting an image file

The picture will appear in your slide.

Insert picture result
You can also select the Insert Picture from File command in a placeholder to insert images.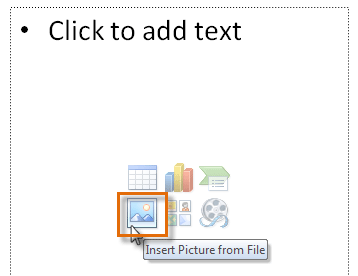 Inserting a picture from a placeholder