You can play videos in PowerPoint presentations easily. Learn to use the PowerPoint insert video function in this free lesson.
Inserting videos
Adding a video to your presentation can help emphasize certain points and provide an example. Once you add a video, you can edit it and format its appearance.
Optional: You can download this example for extra practice.
To insert a video from a file on your computer:
From the Insert tab, click the Video drop-down arrow and select Video from File.

Inserting a video from a file

Locate and select the desired video file, then click Insert.

The Insert Video dialog box

The video will be added to the slide.

The inserted video
Embedding a video from a website
Some websites—like YouTube—allow you to embed videos into your slides. An embedded video will still be hosted on its original website, meaning the video itself won't be added to your file. Embedding can be a convenient way to reduce the file size of your presentation, but you'll also need to be connected to the Internet for the video to play.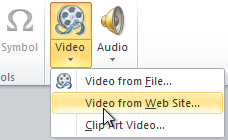 Inserting a video from a website
We have found that this feature no longer works in PowerPoint 2010. If you need to add an online video, you could insert a hyperlink to the video directly on your slide. Review our lesson on Hyperlinks and Action Buttons to learn how.