Using the PowerPoint presentation review feature can help you prepare and get feedback from others on your slides before you present.
Comparing presentations
If you are collaborating on a presentation or asking someone else to review your presentation, you might want to use the Compare feature. The Compare feature combines two versions of the same presentation. This allows you to see the differences between the two and decide which changes to include in the final version of your presentation.

To compare two presentations:
Before you start, you'll need to have one version of the presentation open. When you're ready to compare, you'll select the second version.
Select the Review tab, then locate the Compare group.
Click Compare.




The Compare command

A dialog box will appear. Browse for and select the desired file.




Browsing for the desired file

Click Open.
The Revisions pane will appear, allowing you to compare the two presentations.
Click the buttons in the interactive below to learn how to review comments and changes using the Compare feature.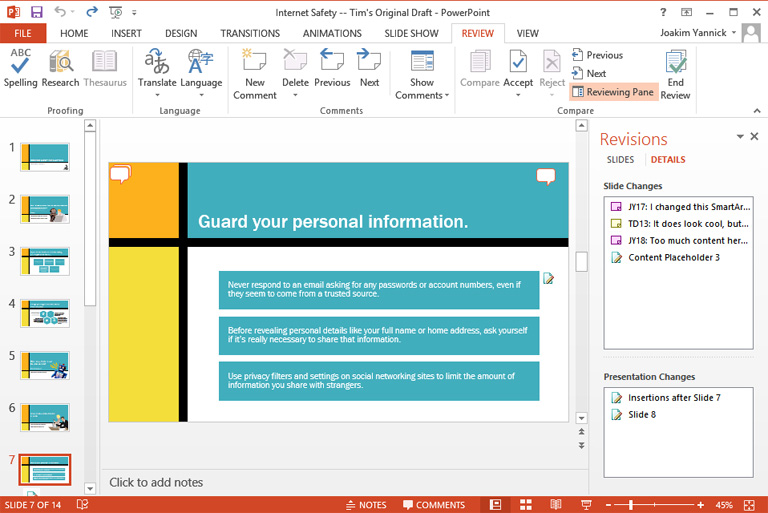 Ending the Review
When you are satisfied with the changes you have accepted, click End Review. Only the changes you have accepted will appear in your presentation.

Reviewing Pane: Details Tab
In the Reviewing pane, the Details tab lists every change that has been made to that slide, as well as all the comments. Click a change to see its location on the slide.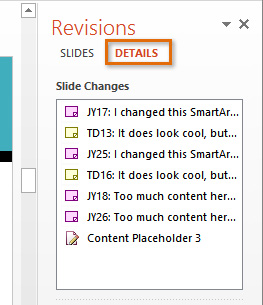 Reviewing Changes in the Slides Tab
Some changes, like Inserted or Deleted slides, will show up on the Slides tab on the left. Click the revisions icon to see the change, and click the check box if you want to accept it.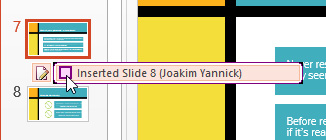 Reviewing Comments
Compare also allows you to view comments from the person who reviewed your presentation. To read a comment, click the comment thumbnail.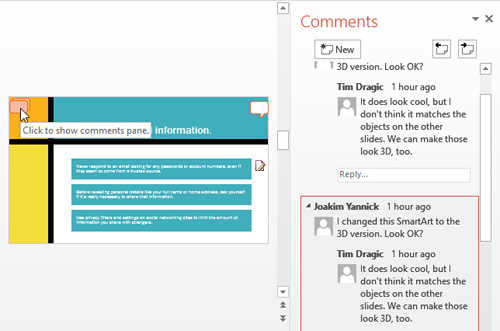 Reviewing Changes on the Slide
Click the revisions icon anywhere it appears on a slide to see the changes that have been made in that spot. Check the check box next to each revision you want to accept. To reject a change, simply leave the check box unchecked.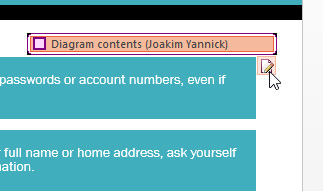 Reviewing Pane: Slides Tab
In the Reviewing pane, the Slides tab lets you view the revised version of each slide. Click the slide to see a larger preview of what the revised slide will look like in your presentation, or click the check box to accept all revisions to the slide.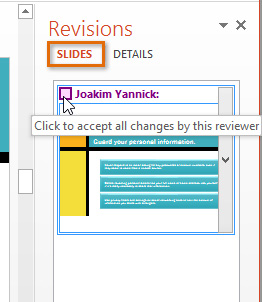 Next Change
Click Next to view the next change in the presentation. You can also click Previous to view the previous one.

Accepting Multiple Changes
In addition to reviewing changes individually, you can accept multiple changes at once. Click the Accept drop-down arrow and select either Accept All Changes to This Slide or Accept All Changes to the Presentation.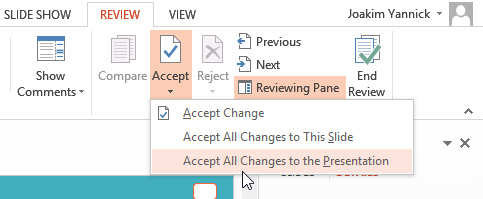 Compare
To compare your presentation with another file, click Compare, then browse for and open the desired file.