Use tables in PowerPoint presentations to display important data. Learn to use the PowerPoint table function in this lesson.
Modifying tables
It's easy to modify the look and feel of any table after adding it to a slide. PowerPoint includes several options for customizing a table, including adding rows or columns and changing the table style.
To resize a table:
Click and drag the sizing handles until the table is the desired size.

Resizing a table
To move a table:
Click and drag the edge of a table to move it to a new location on a slide.

Moving a table
To add a row or column:
Click a cell adjacent to the location where you want to add a row or column.

Clicking a cell

Click the Layout tab on the right side of the Ribbon.

Clicking the Layout tab

Locate the Rows & Columns group. If you want to insert a new row, select either Insert Above or Insert Below. If you want to insert a new column, select either Insert Left or Insert Right.

Inserting a new row

The new row or column will appear.

The inserted row
To delete a row or column:
Select the desired row or column by clicking any cell in that row or column, then select the Layout tab.
In the Rows & Columns group, click the Delete command, then select Delete Rows or Delete Columns from the menu that appears.

Deleting a row

The selected row or column will be deleted.
To delete a table:
Select the table you want to delete, then press the Backspace or Delete key on your keyboard.
You can also access the Insert and Delete commands by right-clicking a table.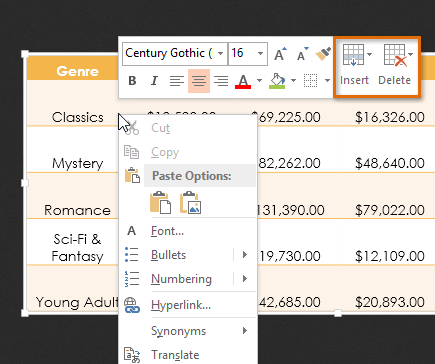 Accessing the Insert and Delete commands by right-clicking