Learn about adding PowerPoint XP AutoShapes and PowerPoint XP WordArt and hyperlinks in this free lesson.
Inserting an AutoShape
PowerPoint provides different that you can use to enhance your slides. For example, an AutoShape can be a useful graphical element. AutoShapes include lines, arrows, banners, stars, and other shapes you can add to your presentation.
To insert an AutoShape:
Click InsertPicturesAutoShapes.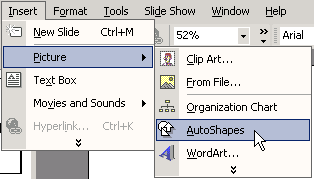 A small AutoShapes toolbar appears.

Click the various options, and a list of AutoShapes appears.
Choose the one for your presentation.
To format an AutoShape, right-click it and choose Format AutoShape.
A dialog box appears with various formatting options.
OR
Insert AutoShapes by clicking the Drawing toolbar at the bottom of the PowerPoint screen. A list of options appears.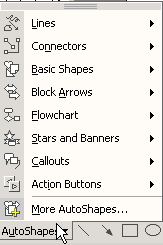 You can click and drag an AutoShape to increase its size, and you can add text by choosing Insert

Text Box.