Learn about adding PowerPoint XP AutoShapes and PowerPoint XP WordArt and hyperlinks in this free lesson.
Inserting a hyperlink
PowerPoint also allows you to add hyperlinks to your slides to make them more interactive. A hyperlink can link to a website, which provides more information for your presentation.
To insert a hyperlink:
Select the text in your document you want to be a hyperlink, such as www.gcflearnfree.org or Free Computer and Career Classes.
Click the Hyperlink button on the Standard toolbar.

If this button does not show, you may want to add it to your toolbar by clicking the down-pointing arrow at the end of the bar to display Toolbar Options. Click Insert Hyperlink to add the button to your toolbar.
Click the Existing File or Web Page button.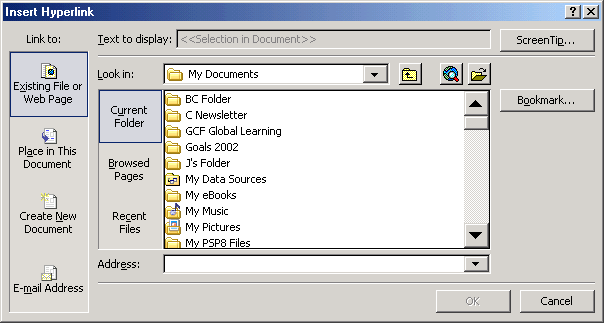 Type any text you want to display, such as Free Computer and Career Classes. This type will display instead of the web address.
Click OK.

To make sure the hyperlink works, click the Slide Show button and click the link on the slide.