Adding Charts, Diagrams, and Tables
Learn how to add PowerPoint XP charts and diagrams, as well as PowerPoint XP tables, in this free lesson.
Labeling a chart
You may also want to label your chart with such information as the title and what the X and Y axes represent. In the default chart, the X axis is the horizontal information, while the Y axis is the vertical information.
To label a chart:
Click ChartChart Options.
A dialog box appears.
Click the Titles tab if it's not already selected.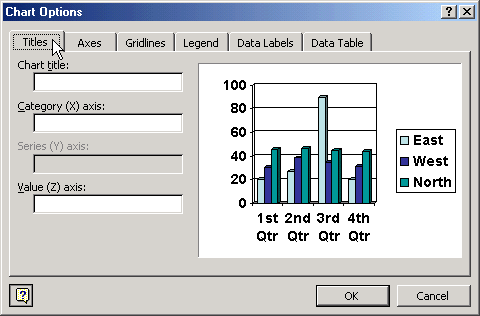 In the box below Chart title, type the title.
In the box below Category (X) axis, type the label for this information. It appears in the rows to the left of the datasheet and in a box to the right of the chart.
In the box below Value (Y) axis, type the label for this information.
Click OK.
To change text alignment of label:
Right-click the text and choose Format Axis title.

Click the Alignment tab.
Choose your text alignment and orientation options.