Learn all about PowerPoint XP Clip Art and adding PowerPoint XP images in this free lesson.
Searching for clip art
Once you activate the Insert Clip Art option, a list of clip art appears on the screen. If you don't see the clip art you want for your presentation, you can look for it using the Search feature.
To search for clip art:
With the Search dialog box open, type the name of the image you are looking for, like people, buildings, or winter.
Click Search.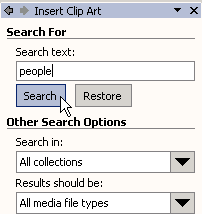 Click the clip art you want to insert.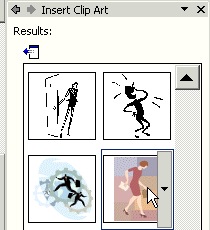 Click OK.
The clip art appears in your slide.

You can move or resize clip art and other content once it has been inserted into a slide. You'll learn more about this later in this lesson.