Adding Clip Art and Pictures
Learn all about PowerPoint XP Clip Art and adding PowerPoint XP images in this free lesson.
Searching for clip art online
To find a larger selection of clip art, you can browse for clip art on the Web. To begin, make sure you have an Internet connection.
To search for clip art on the Web:
With the Search dialog box open, type the name of what you are looking for.
Under Other Search Options, click the down-pointing arrow next to Selected collections and check the box next to Web Collections.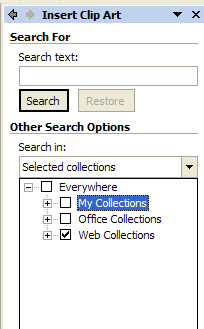 Browse through the different clip art options.
Click the clip art you want to insert.