Adding Clip Art and Pictures
Learn all about PowerPoint XP Clip Art and adding PowerPoint XP images in this free lesson.
Inserting pictures from files
Adding pictures to your presentation can also keep your audience's attention. You can insert pictures you have on file on your computer.
To insert a picture from a file:
Click InsertPictureFrom File.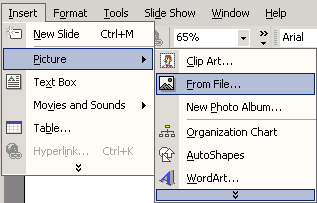 Navigate to the folder where you've saved your picture.
Click the picture you want to insert into the slide.
OR
Click the Insert Picture button on the Drawing toolbar.

Navigate to the picture you want to use.
Select the picture and click Insert.