Adding Transition
Learn how to use the PowerPoint XP transitions feature in this free lesson.
Setting up a slide show
Once you have added created a presentation and previewed it, you can set up a show. It's important to take the necessary steps to make sure your slides are ready for a real audience.
To set up a slide show:
Click Slide ShowSet Up Show.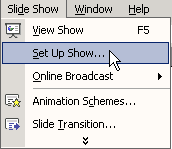 The Set Up Show dialog box appears.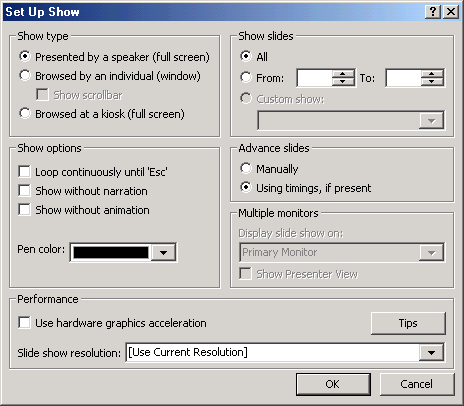 Choose your show type. Typically, it's presented by a speaker.
Choose which slides you will show.
Choose show options. You can leave these blank unless you're planning to run a show continuously at a kiosk or want to show it without animation.
Decide how you plan to advance your slides.
Click OK.