Animating Slides
In PowerPoint XP animating slides is simple. Just follow the step-by-step instructions provided in this free lesson.
Choosing animation for your slides
PowerPoint offers several options for animating your slides.
Once you click SlideDesign Animation Schemes, the Slide Design pane appears with a list of options.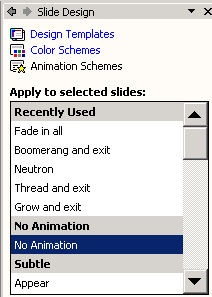 Click an animation scheme you think might work well in your presentation.
Preview different schemes to see which one best fits your slides. To preview your choice, make sure the AutoPreview option is checked.
You can apply different animation to each individual slide or click on Apply to All Slides.
Once you have applied your animation, you can click on Play or Slide Show to view it.
Remove animation by selecting No Animation in the white box.