In PowerPoint XP animating slides is simple. Just follow the step-by-step instructions provided in this free lesson.
Setting direction and speed
Once you choose an effect, decide the direction for that effect. For example, you may want text to fly in from the bottom. (Just make sure your animation doesn't cross important graphics or text in your presentation).
To set direction:
Underneath Modify in the Custom Animation pane, click the down-pointing arrow beneath Direction. (Note that direction options vary depending on the type of effect).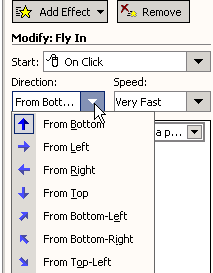 Choose the side of the slide from which you want the title to enter.
Underneath Modify next to Start, select With Previous (animation starts automatically) or On Click (animation starts when you click the mouse).
Decide the speed at which you want effects to happen in your slides. You can choose very slow, slow, medium, fast, or very fast to fit the rhythm of your presentation.
To set speed:
Click the down-pointing arrow under Speed and choose an option.