Animating Slides
In PowerPoint XP animating slides is simple. Just follow the step-by-step instructions provided in this free lesson.
Animating a bulleted list
A bulleted list is another area of your presentation you might want to animate.
To add animation to a bulleted list:
Open the slide with the bulleted list you want to animate.
Click the text box that contains the text you want to animate.
Click the down-pointing arrow in the Task PaneCustom Animation.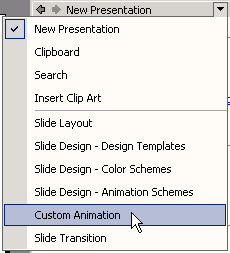 Choose the side of the slide from which you want the title to enter.
Under Modify next to Start, select With Previous (animation starts automatically) or On Click (animation starts when you click the mouse).
The Add Effect button is now active.