In PowerPoint XP animating slides is simple. Just follow the step-by-step instructions provided in this free lesson.
Controlling your text
With the Add Effect button active, you can control the text in your bulleted list:
To set direction:
To control the way the text appears, under Start, choose On Click or With Previous.
Under Direction and Speed, a list of every item that is animated appears with the order in which it is animated.
Find the number for the text you are working with.
Click the down-pointing arrow on the right and choose Effect Options.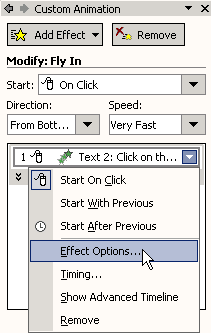 A dialog box appears.
Click the Text Animation tab.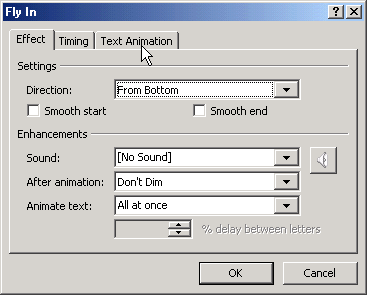 The default option is By 1st level paragraphs. This is the level for the main bullet points. Bullets points will enter one at a time on the slide.
If you want the bullet points to enter as a group, choose As one object.

If you have multiple levels of bullets in a slide and want to animate all levels, choose by 2nd level paragraphs if you have 2nd level bullets, choose by 3rd level paragraphs if you have three levels of bullets, and so on.