Spell Check and Printing
Learn how to use the PowerPoint XP Spell Check and PowerPoint XP printing features in this free lesson.
Using spell check
The spell check tool allows you to check your entire presentation for spelling errors. PowerPoint has a dictionary you can customize with words typically not included in a standard dictionary.
To use the spell check tool:
Click ToolsSpelling.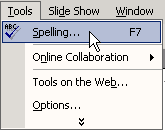 OR
Click the Spelling button on the Standard toolbar.