Learn more about the PowerPoint XP window so you can comfortably use this presentation software.
Using drop-down menus
PowerPoint XP's menu bar operates differently than the one in PowerPoint 2000. The menu initially displays commands you use most frequently. To view infrequently used commands, you use drop-down menus.
To view commands in a drop-down menu:
Click a menu in the menu bar, such as File, Edit, View, or Insert.
Move your mouse pointer over the double arrows at the bottom of the drop-down menu.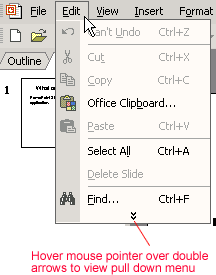 Notice that some menus have black arrows to the right. Slide you mouse pointer over the arrow to view more options.