Working with Slide Views
Learn all about PowerPoint XP slide views in this free lesson.
Viewing slides in Slide Show view
After you have made some changes to your PowerPoint presentation, you can get an idea of how it will look as a slide show.
To view slides in Slide Show view:
Click the Slide Show button at the bottom-left corner of the screen.
OR
Click ViewSlide Show.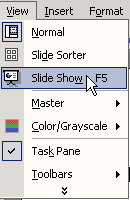 Click each slide until you reach the end of the slide show.
Click to exit and return to Normal view.