Whether you use Prezi templates or the Prezi create presentation feature to start from scratch, learn how to get started here.
Customizing your prezi
In order to communicate an idea most effectively, you may want to include pictures, videos, or background music. You may also find that you want to change the color scheme of your prezi to better reflect the theme of your content. Prezi makes customizing things easy with the help of two buttons in the editor's interface: the Insert button and the Customize button.

Adding pictures, videos, shapes, and more
When creating your prezi, you may want to include more than just words to get your point across. Prezi has an Insert button that allows you to insert pictures, videos, shapes, and background music. These can help to both communicate ideas more effectively and to make your prezi more engaging to your audience.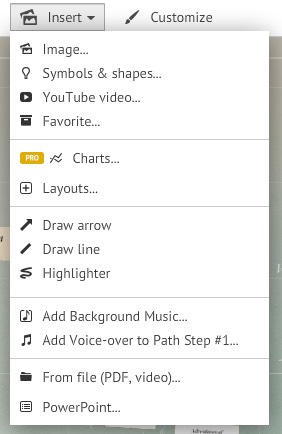 Prezi provides a variety pictures and shapes for you to choose from, and you can include also include YouTube videos. You'll also find premade layouts for frames and paths in the Insert menu.
Changing the background and theme
Located at the top of the Prezi interface, the Customize button opens a pane on the right side of the window that lets you change the background and theme of your prezi. The Customize tool allows you to keep the physical layout and look of the template you chose while changing only the color scheme and font. There are more than 24 themes to choose from, and you always have the option of clicking Revert to original if you don't like the changes you've made.