In Publisher 2003 formatting backgrounds is essential. Also in Publisher 2003 formatting lines is useful. Learn how to use both here.
Formating lines and background colors
Watch the video! (4:52 min)
Lines and background colors are a great way to add impact to your document. Lines may be used for visual emphasis, to divide parts of a document, or to suggest things like perforations. A good background color can help your design stand out from the page.
To format a line:
Click a line to select it.
To change the line color:

Click the small triangle next to the line color icon on the formatting toolbar.
Select a color from the list, or open the More Colors dialog box.

To change the line style:

Click the line border style button on the formatting toolbar.
Select a line thickness or weight.
Select Advanced Options to choose advanced formatting.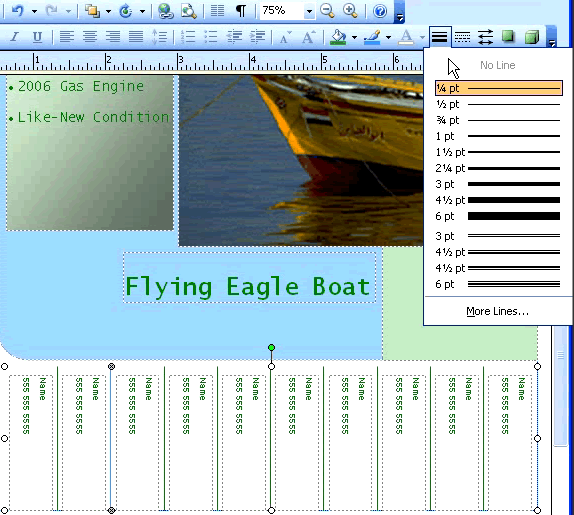 To change the background color of a publication:
Go to the Main Menu and Select FormatBackground.
The Background Color options will appear in the task pane.
Select the color to apply to your publication.