In Publisher 2003 grouping and ungrouping objects can help improve the look of your publication. Learn how here.
Grouping and ungrouping objects
Watch the video! (5:26 min)
Publisher allows you to group or combine multiple objects into one object. This can make it a lot easier to work with multiple objects because you can flip, rotate, resize, and change the color of all objects in a group at the same time—just like with a single object.
To group objects together:
Hold down the shift key and select each of the objects you want to group.
You also can click the select object icon—shaped like an arrow—on the objects toolbar and drag a selection box around the objects you want to group.
Click the Group Object icon that appears below the objects.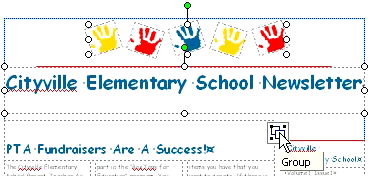 Moving grouped objects
Once objects are in a group, they can be moved just like any other object.
To ungroup objects:
Select a group of objects.
Click the Ungroup Objects icon that appears below the group.