In Publisher 2003 working with images can help you improve the look and feel of your publication. Learn all about it here.
Working with images
Watch the video! (6:51 min)
Images can have a major impact on your publications. Publisher provides several options for adding images like clip art and digital pictures to your publications.
To insert a clip art object:
Go to the main menu, and select InsertPictureClip Art.
The Clip Art window appears in the task pane.
Search for a particular subject of clip art. You can refine your results by specifying a collection or file type.
Click the clip art you want to insert. It will appear in your document.
Move and resize the clip art object as needed.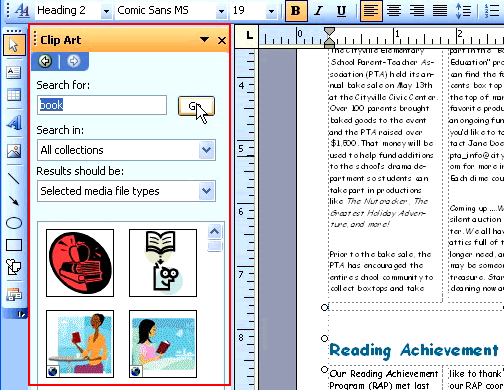 To delete an image:
Select the object you want to delete.
Press the Delete key or right-click and select Delete Object.
To insert a picture:
Go to the main menu, and select InsertPictureFrom File.
Browse for the image you want in the Insert Picture dialog box.
Click Insert to insert it into the publication.
Move and resize the picture object as needed.
Using the picture toolbar
Use the Picture tool bar to:
Change color
Adjust contrast and brightness
Crop an image using the crop icon
Add a line or border
Change line or border thickness