Learn the steps you'll need to take to create a new publication in Publisher 2010.
Creating a new publication
Publisher offers dozens of templates for almost any type of publication you would want to create, including brochures, newsletters, and greeting cards. Of course, if you can't find a template you like you can always modify one to suit your needs or even create a publication from a blank page. Understanding Publisher's templates and layout tools will help you create publications that look the way you want.
To create a new publication from a template:
Click the File tab to go to Backstage view, then select New. The Available Templates pane will appear.
Select the type of publication you wish to create.

Available template types

A selection of templates will appear in the Available Templates pane. Choose from one of two categories:

Office.com templates, which include templates created by other users. User-created templates are indicated with a User icon . Although Microsoft does review these templates, you should use caution when downloading them, as they are not guaranteed to be free of viruses and other problems.

Office.com templates

Installed templates created by Microsoft.

Templates already installed on your computer

A preview of the selected template will appear in the Preview pane on the right. Review the template, and modify template options as desired.

Previewing and customizing the template

When you are satisfied with the template, click Create.

The Create button

The new publication will be created.

The created publication
Depending on the type of publication you create, your template may offer more customization options than shown in the example above.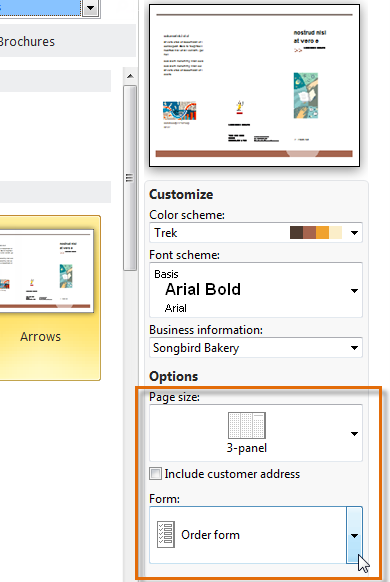 Additional options for a brochure template
Creating blank publications
If you don't want to use a template or can't find a template that suits your needs, you can create a blank publication. Remember, when you create a blank publication you will have to set up page margins, add guides, and make all layout and design decisions on your own.
To create a blank publication, click the New tab in Backstage view, then select a blank page size in the Available Templates pane.

Creating a publication from a blank page