Before producing publications in Publisher 2010 you should know what you'll do with it once it's finished. Learn your options here.
Creating a publication
Creating a professional-looking publication takes planning. For instance, before you even begin your publication, you should know whether you plan to print your document or distribute it online. Once you know how you'll present your publication, you can start making decisions about other aspects of it, such as page layout, paper choice, and print option.
Page layout
Some of the first choices you need to make about your publication involve page layout. Creating a publication from a template takes care of most of these choices for you. However, if you create a publication from scratch or decide to heavily modify a template, there are three components of page layout you'll have to consider.
Size
Some publications, like flyers, can be large or small. However, you probably don't want a brochure to be giant. A standard sheet of paper is 8.5 inches wide by 11 inches tall. Larger sheets of paper can be expensive and difficult to print. Think carefully about your publication size before you commit to printing in a particular format.

A selection of publication sizes

Orientation
Do you want your publication to be in landscape orientation (wider than tall) or portrait orientation (taller than wide)? Your choice will probably be influenced by standard design conventions. For instance, business cards are usually printed in landscape orientation.

Business cards with different orientations

Margins
Margins are areas of blank space that line the edges of a printed document. While professional printers can print publications where the text and images stretch out all the way to the edge of the page, most home and office printers require your publication to have margins, even if they're narrow ones.

The width of your page margins can affect the look and feel of your publication. For example, extremely wide margins, like those often found in menus for fancy restaurants, can look sophisticated. However, wide margins don't leave much room for images and text. In contrast, narrow margins give you a large amount of space to work with.

Menus with different sized margins
As you plan your publication, it might help to mock up your design on paper. You can also use an existing publication as a model.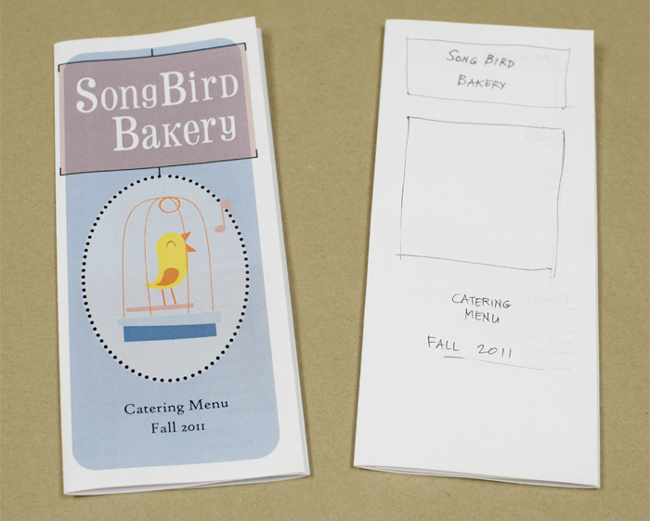 A finished brochure and the initial mocked-up design