In Publisher 2010 text effects can make your publications more visually appealing. Learn how to use them in this free lesson.
Working with text boxes
In Publisher, text is contained in text boxes, which are blocks of text that you can place on the page. When you create or select a text box, the Text Box Tools tab will appear on the Ribbon. On this tab are commands that let you adjust and format your text box and the text it contains.

The Text Box Tools tab
To insert a text box:
On the Ribbon, select the Insert tab, then locate the Text group.
Click the Draw Text Box command.

The Draw Text Box command

The cursor will turn into crosshairs . Click anywhere onyour publication and drag your mouse to create the text box.

Clicking and dragging to create a text box

You can now start typing inside the text box.

The created text box
Wrapping text
If you place a text box near an image or another object, you may notice that the text is overlapping with the object or doesn't appear exactly where you want. To fix this problem, you'll need to change the object's text wrapping settings.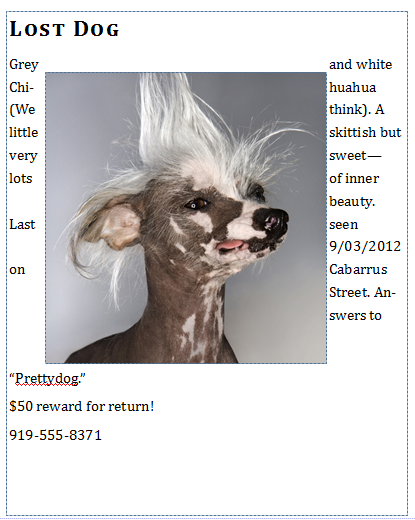 Poorly wrapped text
To wrap text around an object:
Select the object, then click the Format tab that appears on the Ribbon.
Locate the Arrange group, then click the Wrap Text drop-down command.

The Wrap Text command

Select the desired wrap option. The text will adjust based on the option you have selected.

Text wrapping options

If necessary, reposition the object until the text wraps correctly.

Adjusting the image so that the text wraps correctly
If you can't get your text to wrap the way you wish, click the Wrap Text command and select More Layout Options from the menu. You can make more precise changes in the Advanced Layout dialog box that appears.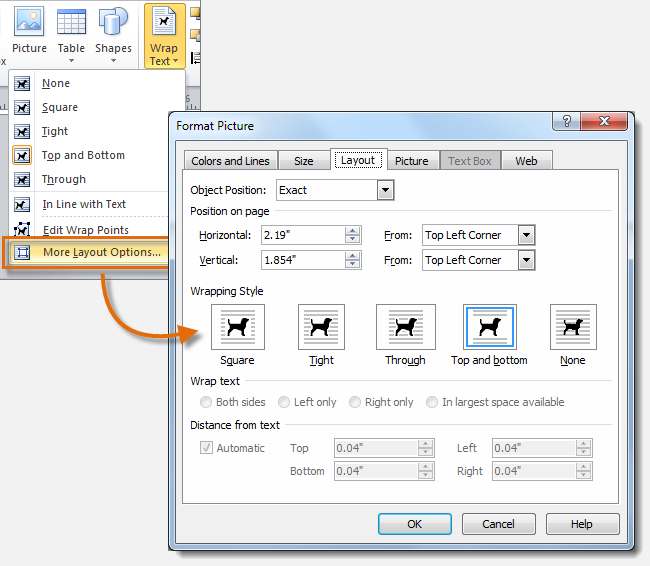 More layout options