Use this additional resume information and these resume resources to ensure you're writing the best resume possible.
You try it!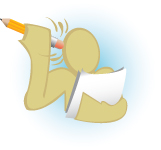 Open your My Resume document to complete this activity. Enter your own information into this document as you progress through this activity.
You will be working only in the Additional Information and References portions of this document for this activity. Please refer to the following picture: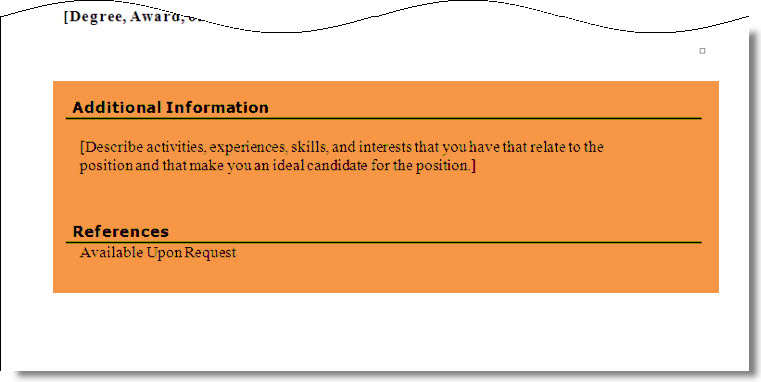 Include any additional skills or information that relates to the position you are trying to get. Some things you may consider including:

Computer, technical and/or language skills
Any leadership role you have had outside of employment
Awards or honors you have received
Community or civic organizations or projects in which you were involved
Volunteer activities
Hobbies or activities that are related to your career

Either keep or delete the References section. To decide whether to keep it, consider the following:

"References available upon request" is a phrase commonly listed at the bottom of resumes.
You should not include the names and other personal information about your references directly on your resume, especially if you are using a recruiter or are planning to post your resume online. Instead, create a separate sheet that you can give to a hiring manager if you are asked to supply references.
Most hiring managers expect that you have references and usually only ask for them during or after an interview.

Save the file with your name as part of the file name (For example, timjohnson_resume.doc).
Be careful not to add any information that is personal, recreational, political, or religious in nature.
Replace the template text with your own information. Be sure to remove brackets as you are replacing text.
Your References sheet should provide the names of at least three people who are not your direct supervisors but who can ably discuss your work ethic and skills. Include their contact information, job title, and a brief description of how they are familiar with your work habits. Never include a family member as a reference unless you have worked with this person in a professional capacity. It is always a good idea to make sure each of your references is aware that he may be called to discuss your skills and abilities. You may even want to provide references with a description of the job you are trying to get so each can talk about those specific skills and other requirements.