When writing your resume contact information should be prominently displayed. Learn all about where to put this information.
Introduction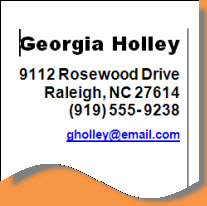 Regardless of which resume format you use, you will still need to include the right information written in a way that "sells" your professional expertise to the hiring manager. What you choose to include on your resume can make or break your entire job search effort. So what should you include to improve your chances?
It all starts with your name and other contact information. In this lesson, you'll learn what contact information to include and how to place it on your resume. You will also have the opportunity to create your own resume starting with adding contact information.
What contact information should you include?
You probably already know that your contact information—which includes your name, address, phone number, and email address—should always appear at the top of your resume, regardless of which resume format you have used.
But did you know that some employers actually use the contact information section to screen out undesirable candidates? They may pass you over if you live in another part of the country in order to avoid paying relocation costs. Or they may form a negative opinion about you if your contact information is inappropriate in some way. A lot of hiring managers today will even use this information to search for you on popular social networking sites to see what is posted about you. So what should you include to make sure your resume doesn't get eliminated?
Click the buttons in the interactive below to learn more about what contact information to include:
It is now becoming more common to see links to professional online profiles and personal webpages placed on resumes. These links are generally included with your contact information, but may be listed in another section like additional information. Visit our Resume Tips and Strategies lesson for more information and advice on including web links.
Open the Microsoft Word Resume Template and Save it to your computer as My Resume. Enter your own information into this document as we progress through each lesson in this unit.
Note: This resume template is based on the chronological format. If you would prefer another format, you may use another Microsoft Word resume template or use an online search engine to find a template in the format you have chosen.
You will be working only in the contact information portion of this document for this activity. Please refer to the following picture:



After replacing the template text with your own information, be sure to remove the brackets.
Your first and last name are expected to appear at the top of your resume. Enter your Name in place of [FirstName I. LastName], and keep the following in mind:

The middle initial is optional. Include it if that is how you are known in your field or if your name is fairly common and you want to distinguish yourself from other job candidates with the same name.
You can use your given first name (Elizabeth, e.g.) or your shortened first name (Liz or Beth, e.g.).
Don't use a nickname, especially one that can lead someone to form an opinion about you (Ace or Dizz, for example).

You are also expected to include a home address on your resume.




Enter your House number and street name in place of [#### Street Name], your city and your state abbreviation in place of [City, ST], and your five digit zip code in place of [ZipCode].
Consider using your complete state name if your state abbreviation is easily confused with another, like MO, MS, and MT.

Enter the digits of the phone number you have decided to use in place of [(###)###-####]. Your home and/or mobile/cell phone numbers are acceptable to use. However, when thinking about which number to include, consider the following:

It is acceptable to include more than one telephone number.
Make sure you have a reliable (as well as appropriate and polite) message system or message taker if you cannot answer the phone yourself.
Make sure the number you include is one on which you can actually take calls as they come in. Your current work phone number is not a good choice if your employer does not allow personal calls, or if you don't want them to know you are looking for another job.
You will want to check messages regularly during your job search, so make sure the number you include will be accessible to you.

In this digital age, an email address is a must on your resume. It is now the preferred way for a hiring manager to get in touch with you. Make sure it's an appropriate email address before you enter it in place of [email@emailprovider.com]:

Use a conventional email address (firstname.lastname@email.com), not one with an inappropriate connotation (like partygirl24_7@email.com).
During your job search, you will need to check your email regularly so you don't miss an opportunity.
If you don't have an email account, there are many free online providers (including Yahoo! and Gmail) you can access at your local library or Internet cafe.

Save the file on your computer. You will be adding more information as you progress through other lessons in this unit.