Use these resume objective examples and resume summary examples to help craft your own unique resume.
You try it!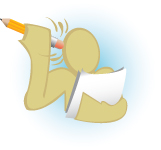 Open your My Resume document to complete this activity. Enter your own information into this document as we progress through each lesson in this unit.
You will be working only in the Objective and Summary portions of the document for this activity. Please refer to the orange box in the following picture: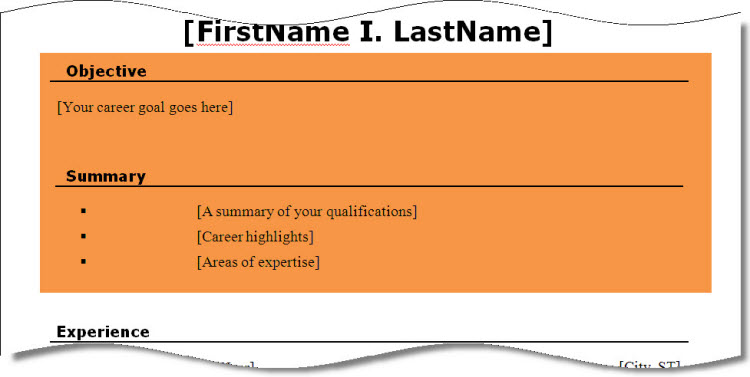 Replace the template text with your own information. Be sure to remove the brackets as you are replacing text.
Enter your career goal in the Objective section in place of [Your career goal goes here]. Before you type in your own objective, follow these steps to make sure you write a good one:

On note paper, jot down:

The job title you are submitting the resume for (for example, administrative assistant). If you don't know the title, the desired position level (for example, entry-level, part-time, full-time, etc.)
The field, industry, or area of work (for example, service industry)
Your areas of specialization or skills (for example, excellent computer, organizational, and interpersonal skills)

Build your own objective by replacing the (parenthesis) with your answers:
"A (position/level) position using my (skill, skill, and skill) as a (position title) in a (field/industry)."
Some resume experts believe including only a simple job title in your objective is better than writing a full statement. For example, these experts would suggest using "A position as a receptionist." rather than "A full-time position using my strong organization, office managment, and customer service skills as a receptionist for an established financial planning firm."
Modify the Summary section. Do this by replacing the text with either:

Bullet items that summarize your qualifications, career highlights, and areas of expertise, OR
A paragraph that answers the same things the template is asking for
You can rename this section with an appropriate title. Some possible titles include Profile, Competencies, Professional Background, Accomplishments, or Areas of Strength.
Save the file on your computer. You will be adding more information as you progress through the lessons in this unit.