If you ever get stuck on a Google search, use these Google search tips to discover the information you're looking for.
Advanced search strategies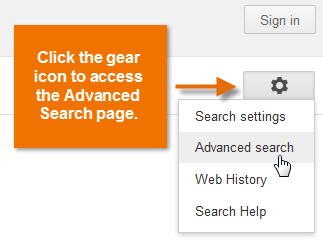 Accessing Advanced Search
Contrary to what you might think, advanced search strategies aren't just for advanced users. They're for everyone, whether you have a lot of experience with Google or just a little. The only tool you need is Google's Advanced Search page. You can access it from the results page by clicking the gear icon in the upper-right corner.
If you've never seen the Advanced Search page, you may be surprised by some of the things you can do. For example, you can narrow your results by language or reading level. You can also limit your search results to pages that have a certain domain, such as .gov or .edu.


Click the buttons in the interactive below to learn more about the Advanced Search page.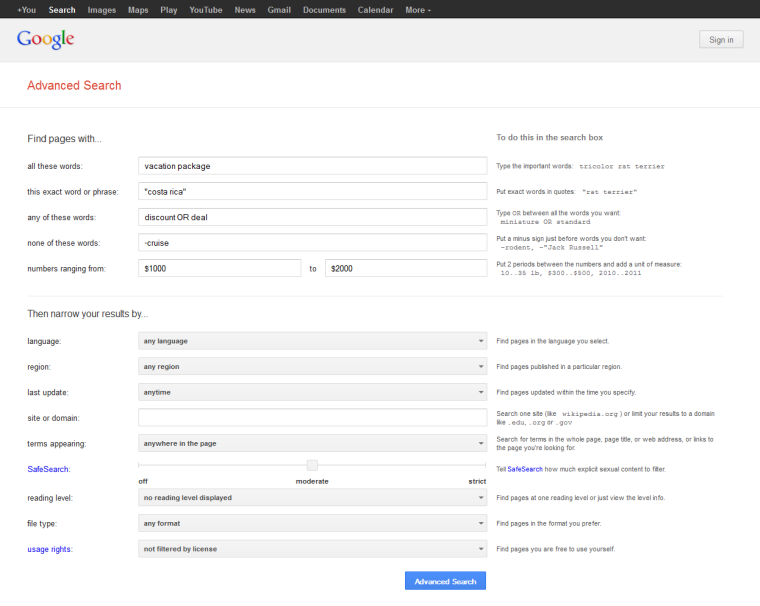 Usage Rights
In general, you're not allowed to copy & paste information that you find online, and claim it as your own. However, there are some exceptions; for example, works in the public domain, and content that's been licensed by the original author.
With the usage rights option, you can search for this type of content.
File Type
Are you hoping to find a file that contains your search terms, rather than a webpage? Here, you can search for PDFs, spreadsheets, Word documents, and other common file types.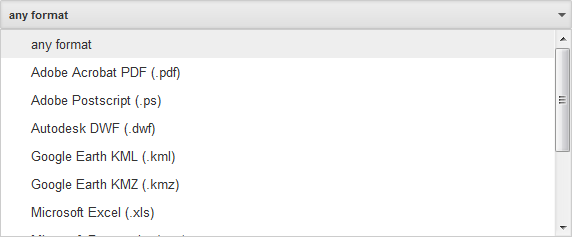 Reading Level
The reading level option can be useful in some very interesting ways. Of course, you can you use it to choose the reading level you're most comfortable with. But you can also use it to manipulate your results to find certain types of information.
Say you're searching for higher-level academic content. You're more likely to find it if you set the reading level to show only advanced results.

SafeSearch
Google's SafeSearch filter lets you control how much explicit sexual content you see.
Strict gives you the most protection, but may inadvertently filter results that you want to see. Moderate is a good compromise because it filters the most extreme results, but still gives you access to others.
Terms Appearing
By default, Google searches for information that contains your search terms anywhere in the page. If you want to limit your search to one part of the page (for example, the page title), you can do that here.
This may be useful for locating something very specific, like a website you've been to before, but you can't remember the address.

Site or Domain
Use this option to search a single website (for example, about.com), or a certain type of website. You can do the latter by limiting your search results to one domain. The domains are as follows:
• .edu - colleges, universities, and other school websites
• .org - organizations
• .gov - agencies of the U.S. government
Last Update
If the information you've found seems out of date, you may want to narrow your results to pages that have been updated more recently. Your options range from the past 24 hours to pages that have been updated within the past year.

Region
Depending on what you're looking for, limiting your search to a specific region can lead to some interesting results. Take the American Revolutionary War, for example. Compared to the U.S., do you think webpages in the United Kingdom would have a slightly different perspective? Probably. Of course, you can also use this feature to search for more general information from different regions.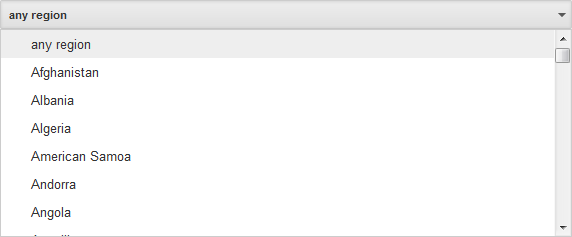 Language
Are you a native English-speaker? What if you're helping a friend find information in French? Use this option to search for web content that's written in another language - from Afrikaans to Vietnamese, and everything in between.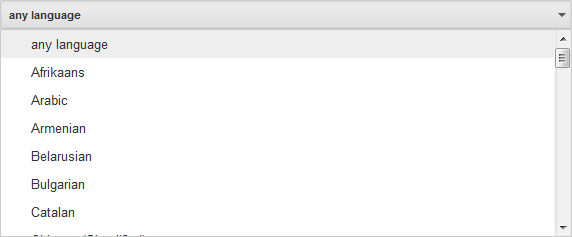 Then narrow your results by...
Use this section to narrow your results using much more specific criteria. Remember: You must enter at least one search term in the section above in order to use these options.
Find pages with...
These options should look familiar if you've already reviewed our basic search strategies. Here, you can refine your results using techniques like search for an exact phrase. You can also search for pages that contain one of several relevant search terms; for example, discount OR deal.
You must enter at least one search term in this section in order to use the options below (under Then narrow your results by...).
Still can't find what you're looking for?
Sometimes it's not enough to know all the basic and advanced search strategies. If you still can't find what you're looking for, you may need to try different search terms—and this time, really use your critical thinking skills. Let's take a look at some examples.
Example 1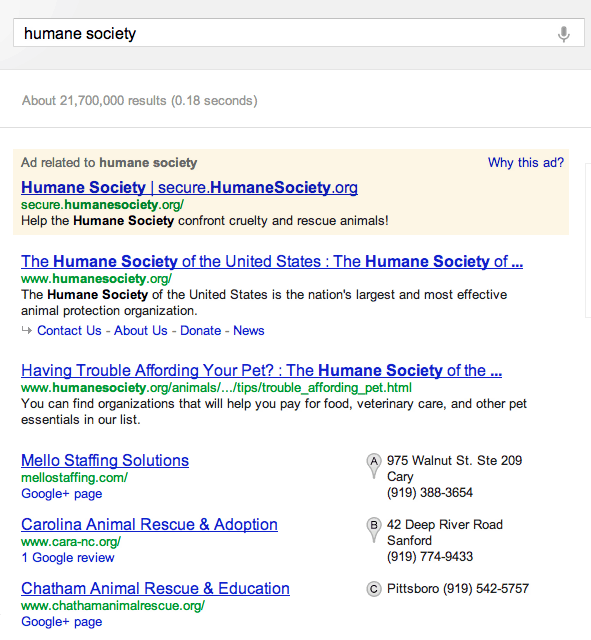 Searching for an animal shelter
Let's say you're looking for a place where you could adopt a dog. What words do you think OTHER people would use to describe that? Maybe shelter? Or rescue? You could even search for an adoption center by name (for example, humane society).
The truth is, shelter and rescue are pretty common terms—both in popular culture and among people in the pet adoption community. This means they're more likely to appear on a webpage than place to adopt a dog. Notice how that sounds slightly less "official"?
If you know the popular term for the information you're looking for, search for that instead. If you don't know the popular term, look closely at your original search results to see what you can find. If you notice any keywords that appear more frequently than others, it might be a clue.
Example 2
In certain parts of the country, fall is one of the most beautiful times of the year. If you're a "leaf peeper" (someone who's willing to travel in order to view or photograph fall foliage), you need to know when the leaves are going to be at their most colorful.
Of course, you could search for fall foliage forecast. But this may not produce the most comprehensive results. This is because there are so many other words you could use to describe what you're looking for. For example:
Instead of fall, search for autumn.
Instead of foliage, search for leaves or color.
Instead of forecast, search for predictions, calendar, or peak (shorthand for when the colors are going to be at their most vibrant).
In short, try a few synonyms if your original search terms were unsuccessful. You may need to experiment with different combinations and then compare the results to figure out which keywords work best. You can also use advanced search strategies to search for multiple terms (for example, fall OR autumn).
Again, if you don't know any synonyms look at your original results. Review some of the language used there to see whether they give you any ideas.