Learn more about Airbnb and how it is used to book homes around the world in this free lesson.
Using filters
At first, Airbnb gives you a random sampling of different homes around your destination, so let's focus by applying search filters.
Room type: Some hosts offer an entire home, while others only offer a room. Click an option to only see properties of that type.

Price adjustment: Let's say you're on a budget and only want to spend a certain amount per night. Click and drag the right circle on the Price range line until it hits your desired amount. Airbnb will update automatically.

Other filtering options: Here, you can search for homes that only have specific amenities, such as wireless Internet or air conditioning. You can even search for hosts who speak a specific language or live in a certain neighborhood.
To filter your search results, click Filters.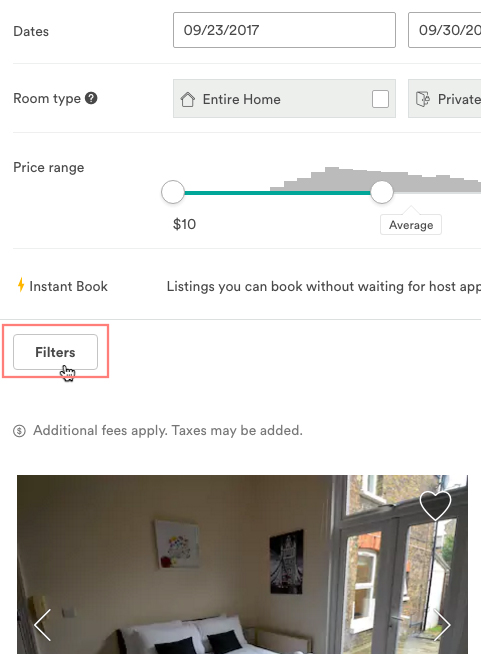 Click an item to only see properties with that particular option. You can choose as many filters as you'd like. Once you're finished, click Apply filters near the bottom.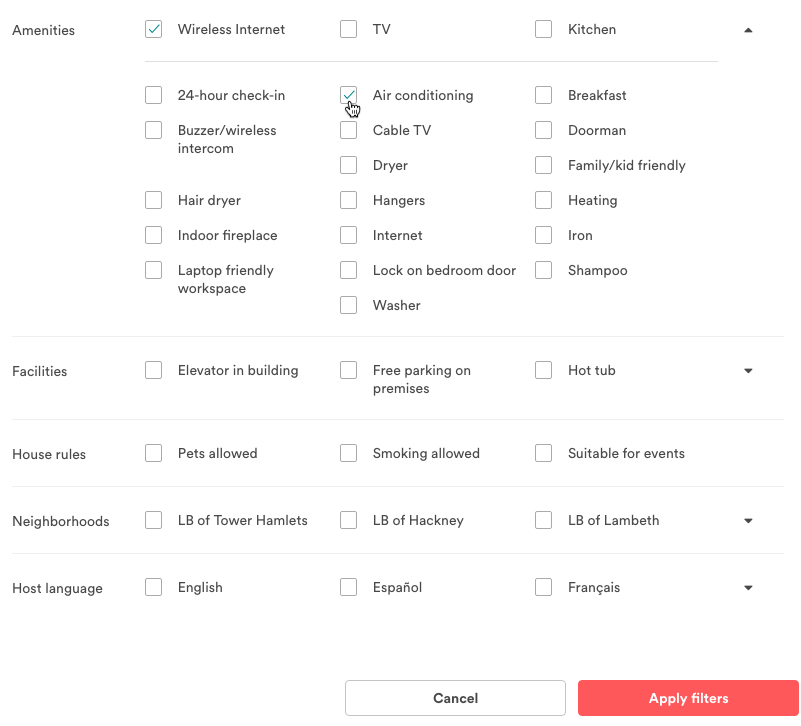 Reviewing the details
Once you click an interesting home, you'll find a summary of its offerings, including a detailed description of the space, amenities, and pricing.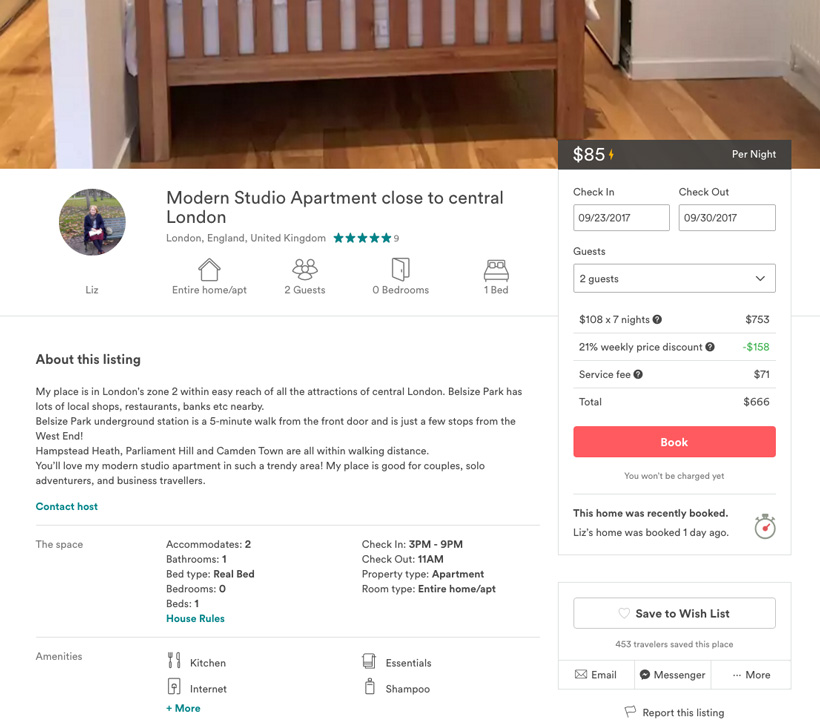 Click the top image to see more pictures of the home.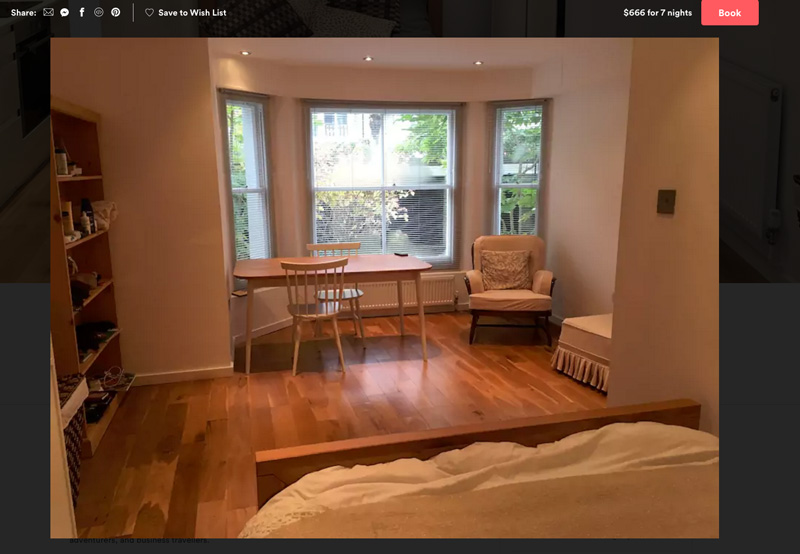 Because Airbnb is a community of users, the best way to confirm a home's quality and safety is to check the reviews section at the bottom of the page. These reviews are completed by guests who have stayed there. The more five-star ratings a home has, the better. Read through this section to make sure previous guests were satisfied with their stay. Be sure to read these reviews carefully.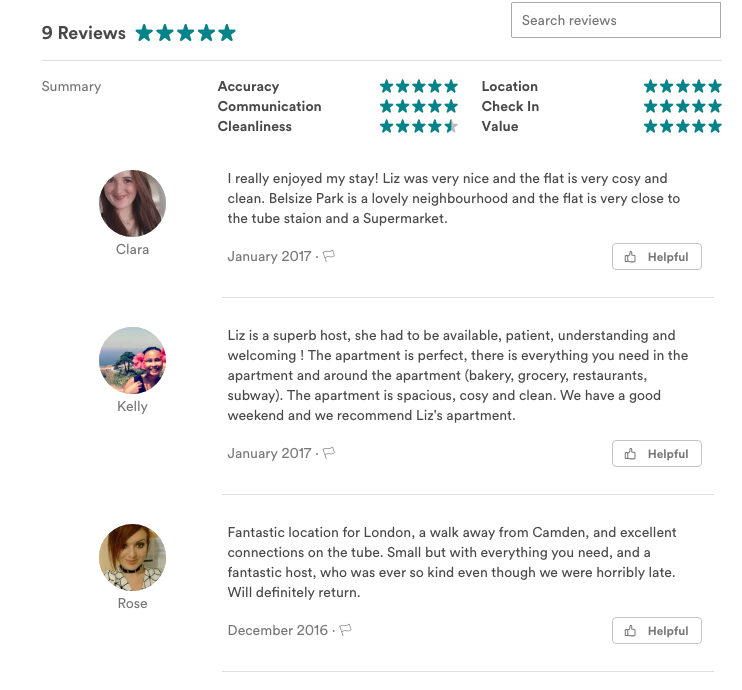 Always review the entire summary of the home before you book to make sure it will meet your needs. If you have questions, contact the host by clicking Contact host in the About this listing or Your host sections.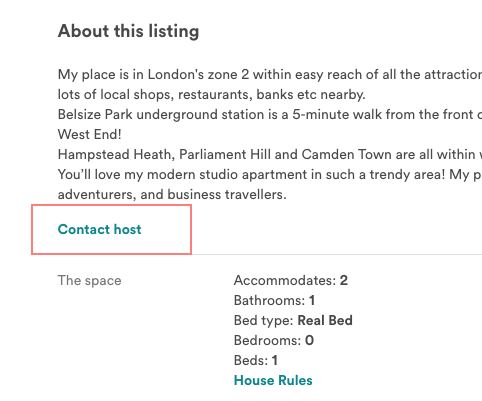 Booking a home
After you've confirmed that the home meets your standards, you can book it by clicking the red button on the right. This button will read either Book or Request to Book.
Book: Your booking will immediately be confirmed after you enter your credit card information on the subsequent page.

Request to Book: The host of the home will need to approve your request before a reservation can be confirmed. It can take up to 24 hours for a host to approve your request. Hosts reserve the right to deny your request to stay at their home.

Enter your credit card information to finalize your request. Keep in mind that the host cannot access your credit card info in any way. Airbnb will handle the entire transaction, allowing your host to focus on making your stay as comfortable as possible.
Once your host confirms your booking, you will be sent a confirmation email, including the street address of the home and the owners' contact information.