Contact safety tips
It's important to know how to deal with unwanted callers on Skype, as well as how to protect yourself from spam, phishing, and other scams. The first step to safety is adjusting your privacy settings so only the people you know can contact you. For help adjusting your privacy settings, go back to Managing Your Account in the previous lesson.
You'll also want to review the contact safety tips in this lesson so you know what to do if you receive a suspicious call, IM, or contact request.
Blocking contacts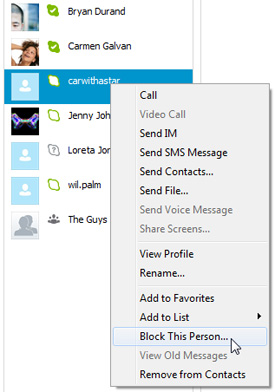 Blocking a contact
There are several reasons you may want to block someone on Skype. Perhaps the person is sending you spam or phishing for personal information like your bank account number. On the other hand, you may someday need to block someone you know for inappropriate behavior like cyberharassment.
You can always block or ignore suspicious contact requests as soon as you receive them. You can also accept them if you think you might know them, then block them later if you change your mind. All you have to do is right-click each name on the Contacts tab and choose Block This Person from the list of options.
When you block someone on Skype, you can also report that person for abuse (spam, phishing, etc.) if the situation warrants it. Learn more at Skype's How do I report abuse by someone in Skype?