Instant message spam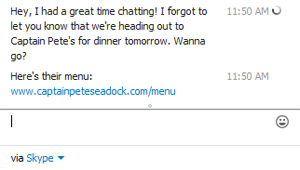 The word spam is often used to refer to junk email, or unwanted email advertisements. Unfortunately, you can receive spam in Skype too—in the form of instant messages from people you don't know.
Phishing scams and malware can even be included in spam, so it's important to know what to do when you receive a suspicious message on Skype.
Never reply or follow any links sent by a spammer. It can be tempting, but it will just confirm to the spammer that you've read the message. The spammer may think you're a good target for more spam—or for scams that are more harmful, like ones involving your credit card or personal information.
Block the user, and report that individual for abuse. That tells Skype to keep an eye on the user's account. If Skype notices any suspicious activity, it can take action to protect other people from being spammed.
Phishing and other scams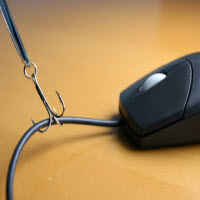 Many spammers aren't trying to sell you anything—they're trying to gain access to your information or even steal money from your bank account. Scams come in many different forms, but they generally work by promising you something that's too good to be true or by making you think something bad will happen if you don't take action.
Phishing is a type of scam where someone pretends to be from a bank or another trusted source to trick you into giving out your personal information. A phishing message will often have a sense of urgency; for example, it may claim that unauthorized charges were made on your credit card and that you need to verify your information.
Never reply or follow any links sent by a scammer. Even on Skype, it's easy for someone to use the name and logo of a legitimate company in order to look official. Any link you click could take you to a shady site. To visit only websites you trust, type the web address yourself, or use one of your bookmarks.
Block the user, and report that individual for abuse. This will tip off Skype to the scam so it can take action against the user's account. You can also contact the company being misrepresented and report the scam to someone there. Another option is to email a report to the Federal Trade Commission at spam@uce.gov.
Get more information, and learn about specific scams via the resources below. Some information refers specifically to email but also can apply to Skype.