Making Skype-to-Phone calls
To call other phones from Skype, you'll need to purchase some Skype credit or a subscription first. The word for this type of call is Skype-to-Phone. These features aren't free, but they're fairly inexpensive if you're interested in doing more with your Skype account.
Other paid services include your own Skype number that anyone can call to reach you on Skype and Skype to Go for low-cost international calls from your phone or mobile device. These must be purchased separately.
Selecting and paying for services
The best place to learn about paid services is your account at Skype.com (Skype sign in). There, you can review each service to figure out which one is right for you. You can also purchase what you need, whether you decide to pay as you go, get a subscription, or sign up for another paid service.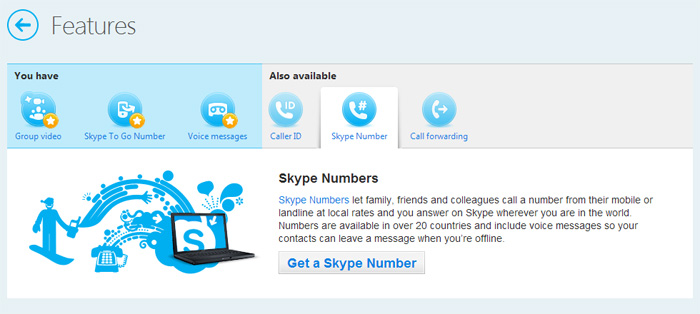 Your account page
For help understanding your options, go back to review our Introduction to Skype.
To call other phones from Skype:
Click the Call phones button above the Contacts tab.

Calling a regular phone

Enter the phone number you want to call, then click the Call button.

Dialing the number

The call window will appear. You'll hear a ringing until the other person answers.
Talk as long as you want. Click the End call button when you're ready to hang up.

Phone call in action