To send files on Skype:
Click the person you want to send a file to on the Contacts tab.
The contact's information will open in a pane on the right. Click the paperclip, then choose Send file.

Sending a file

Select the file you want to send. You may need to navigate to where it's saved on your computer. To select multiple files, press and hold Ctrl on your keyboard while you select each file.




Choosing a file to send

The other person will receive the file and decide whether or not to download it. If the contact is offline, he or she will receive the file after signing in. The sent file will appear in your history.

Confirmation of a sent file
You can also send files during a call. All you have to do is click the + button in the call window, then choose Send File.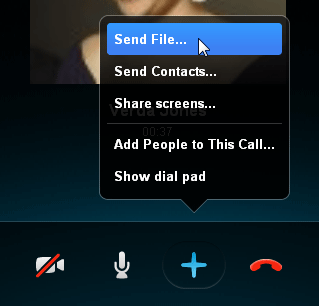 Sending a file during a call
Receiving files
Your contacts can also send you files over Skype. Files will appear in your history, and you can double-click to open a file.

While it's not very likely, it's important to note that files sent to you over Skype could contain viruses and other malware. This is why it's important to be careful when opening files and to always follow these precautions:
Don't open any files you weren't expecting. Even if the file looks like it's from someone you know, it may have been sent to you automatically by a virus. This is how many viruses spread. If a contact sends you a file that seems suspicious, you should call or IM that person to verify that it was meant for you.
Keep your antivirus software updated. Viruses can spread quickly, and if your antivirus software isn't up to date it may not be able to block new viruses.
Keep your computer's firewall on. Firewall software helps to prevent people or malware from gaining access to your computer through the Internet.
To learn more about keeping your computer safe from viruses, review our lesson on Protecting Your Computer from Internet Threats from our Internet Safety tutorial.