Creating an account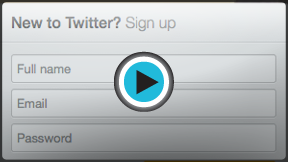 Watch the video (4:13).
Watch this video for an overview of the Twitter signup process.
To create an account:
Go to www.twitter.com.
Locate the New to Twitter? box. Enter your full name, email address, and desired password into the form. As with all online services, it's important to choose a a strong password—in other words, it should be difficult for someone else to guess but easy for you to remember. Read our Creating Strong Passwords lesson from our Internet Safety tutorial for more information.
Click the Sign up for Twitter button.

Clicking Sign up for Twitter

A form will appear. You will need to confirm your information and choose a user name that hasn't already been taken.
Uncheck the box next to Tailor Twitter based on my recent website visits if you do not want Twitter to access your browsing history.
Read through the Terms of Service, then click Create my account.

Creating an account

The Twitter welcome page will appear. This page will help you set up your account. Click Next to continue.

The Twitter welcome page


You can now start choosing who to follow. A list of people you can follow will appear. You must choose five people to follow before clicking Next.

Choosing who to follow

Twitter will also suggest people to follow based on your interests. To continue, select five people to follow, then click Next.

Browsing by Category

Optional: You can automatically find people you know by selecting a service you use, like an email account. For example, if you have a Gmail account, Twitter can look for your Gmail contacts who are already using Twitter. Click Skip this step at the bottom of the page if you want to do this later.

Finding friends

Optional: You can add a profile picture and bio to your account. If you feel comfortable with this process, you can upload a photo now or you can Skip this step. We will explain how to customize your profile later in the lesson.

Adding a profile picture and bio

Your new Twitter homepage will appear.

A newly-created homepage
To confirm your email address:
At this point, Twitter will send a confirmation email to the email address you provided. Before you can access all of Twitter's features, you'll need to confirm your email address.
Sign in to your email account.
Open the confirmation message from Twitter: "Confirm your Twitter account, user name!"
Click the link to confirm your account.

Confirming an email address

Your Twitter homepage will open. You now have full access to Twitter, and all future notifications will be sent to the email address you provided.