Sharing photos and videos
Sharing photos on Twitter used to be complicated, but today it's as easy as adding a picture to your profile. You can upload a photo from your computer to any tweet and share it with all of your followers.
To share a photo:
Once you have composed a tweet, click the Add an image buttonbelow the text box.

Adding a photo to a Tweet

Select the image you want to upload from your computer.
A preview of the photo will appear. Click Tweet.

Tweeting a photo

Click View Photo to see the picture.

Opening a photo in the timeline

The photo will appear just below your tweet.

Viewing a photo in the Timeline


You can quickly access the images you upload on your profile page.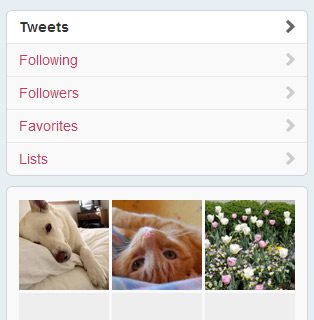 Viewing your recent images
To share a video:
While you cannot upload a video directly to Twitter from your computer, you can share videos from popular sites like YouTube.
Click the Share button below the video, then select the Share to Twitter button.

Sharing a YouTube video

A pop-up window will appear. You will need to sign in to your Twitter account if you are not already logged in. Type your post before the shortened YouTube link, then click Tweet.

Confirming your tweet

Click View Video to watch the video.

Opening a video in the timeline

The video will appear just below your tweet.

Viewing a video in the Timeline
Sharing your own videos
Although you can't upload videos directly to Twitter, you can still share them with your followers using a variety of third-party sites and apps. Some of of these resources even allow you to log in with your Twitter account. No signup is required!
Resources for uploading your videos:
Telly and TwitLens allow you to log in using your Twitter account. YouTube and Vimeo do not; you must create a separate account.