Who to follow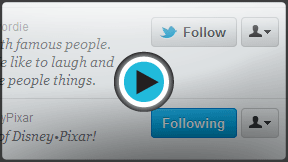 Watch the video (3:52).
Now that you've created an account, it's time to start finding other Twitter users to follow! What are your interests? Do you plan to follow only people you know or a little bit of everything, from celebrities to news to some of your favorite companies?
When you follow people on Twitter, their updates appear in real time on your Twitter timeline (also known as your stream). As you begin to follow more and more people, you might benefit from strategies and apps that can help you manage this flow of information.
Watch this video to learn more about finding and following people on Twitter, as well as ways to manage your timeline.
Finding people to follow
Because it's such a big part of the Twitter experience, figuring out who to follow—and how to find them—can be overwhelming at first. Luckily, Twitter gives you several ways to connect to the people you know, the information you want to know, and more. It's all about following and receiving updates from the accounts that interest you; therefore, everyone's Twitter stream will be different.
The #Discover tab in the top navigation bar is the best place to find new people to follow, regardless of your interests. Select the #Discover tab. Several options will appear in the left navigation pane, which you can use to find people to follow.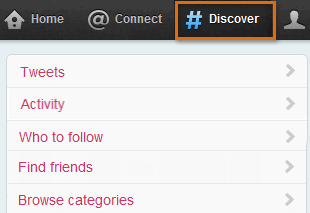 The #Discover tab
Who to follow: Find suggestions based on the accounts you already follow (if you added any during the signup process). In this example, @AliaJones' suggestions reflect the unique contents of her Twitter stream: accounts related to fashion, local businesses, travel, and activities.

Who to Follow


Find friends: Find people you know by searching your social or professional contacts. Just select any service you use, and sign in when prompted to give Twitter access to your personal connections. In this example, @AliaJones is about to search her Gmail contacts for friends and family who also use Twitter.

Find friends


Browse categories: Find accounts based on what interests you. Pick a topic—any topic! Browsing is a good way to discover some of Twitter's most popular and prolific users.

Browse categories


Find users by name: Find anyone by entering their name or user name. You can even enter brand names like CNN, Google, or Barnes & Noble. However, if the individual you're looking for has a common name or chooses not to list his or her name publicly, you may have trouble finding this person in this way.

Finding users by name
Similar to the above, you can use the Search bar at the top of the page. Just select the People button in the left navigation pane when the list of search results appears.
Following and unfollowing
To follow or unfollow someone, just click the Follow or Following button that appears next to the person's name or on their profile page. Easy to use and practically everywhere you look, this toggle button lets you decide who appears in your Twitter stream and—if you change your mind—who doesn't.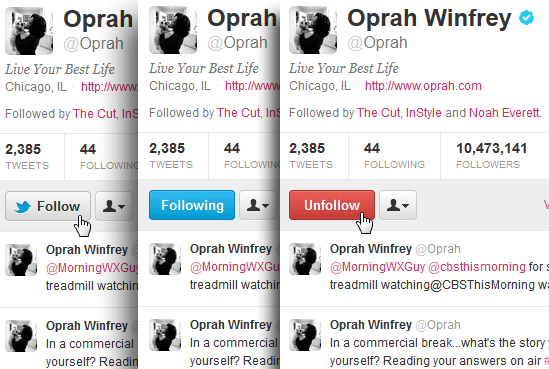 The Follow and Unfollow buttons
Notice the

icon next to Oprah's name? This icon, called the Verified Badge, is used to identify accounts that legitimately belong to celebrities and other well-known Twitter users.
About your Twitter timeline
Stream. Feed. Timeline. It goes by many names. It's the place where you receive updates—in the form of tweets—from the people, companies, and organizations you follow. The more people you follow, the more tweets you see in your timeline. The most recent tweets appear at the top.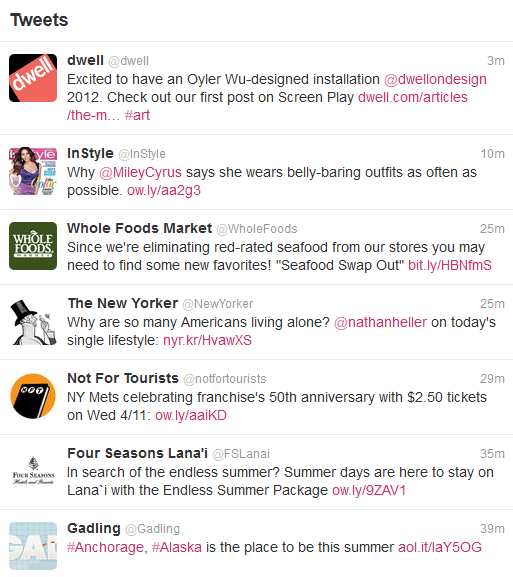 The Twitter timeline
This is where the Twitter experience really begins. Your timeline is constantly updating (maybe even right now!) to reflect what's going on in your world. If your life revolves around news and politics, you'll be able to follow updates from trusted sources—even grassroots, eyewitness accounts—as the news takes place. If you love technology, there's no shortage of developments to be shared and talked about with your peers.
Depending on your point of view, this either sounds exhilarating or intimidating. It can be difficult to keep up, but you should never feel pressured. Just enjoy Twitter when you can, whether you have the time to check it every day or only once a week. For those of you who'd like to take it a step further, there are several tools and features (provided by Twitter and even other sites) that are designed to help you manage your account and stay informed.
Have you noticed the

icon below some tweets? That's the promoted tweet badge, which indicates that a company has paid for a tweet to appear in your timeline. Twitter will try to show only promoted tweets that appeal to you, but sometimes you may prefer to ignore them altogether.

A promoted tweet
Ways to manage your timeline
These tools are optional, but they have the potential to improve your Twitter experience regardless of how many people you follow. Experiment to see which ones you like.
Lists: Creating Lists gives you the ability to group the people you follow (thereby grouping their updates) however you see fit. In this example, @AliaJones has created lists for some of her interests, including Local Activities and Friends & Family. Each list is like a miniature timeline of the people she chooses to include. Click the Lists button in the left navigation pane on your Profile page to see your lists.




The Twitter Lists feature

Favorites: Favoriting memorable or important tweets is a great way to save them—either for posterity or so you can come back to them later. You can favorite a tweet while you're at the doctor's office, for example, and watch the video when you get home. Just hover over the tweet and click Favorite to save it. Access your favorites by selecting the Favorites button in the left navigation pane on your Profile page.

Viewing your favorite tweets

Apps: There are many applications designed help you enhance your Twitter experience, from simply staying in touch on the go to managing the constant stream of updates. Some popular choices include the official Twitter mobile app, as well as TweetDeck and HootSuite, which are third-party apps for your desktop or mobile device.

Using TweetDeck
Discover what's happening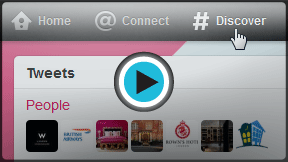 Watch the video (3:19).
The #Discover tab allows you to explore popular news stories and trending topics. Twitter is such a powerful tool for discovering news because the information on Twitter is constantly updating in real time. You can read what people are saying about a topic as it develops, long before the story might find its way to a news website or TV report.
Watch this video to find out how to explore more content on Twitter.
Tailored tweets
Click Tweets in the left navigation pane to view stories that appear based on your interests and location.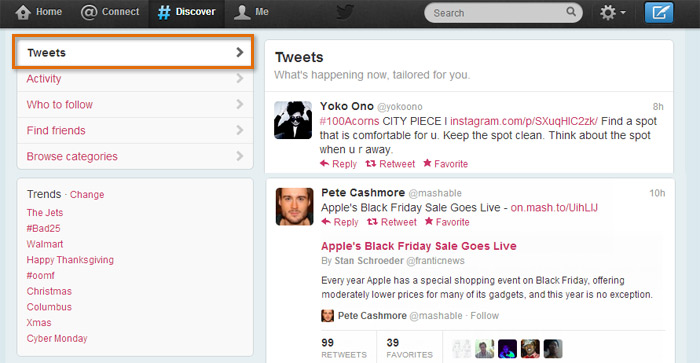 Viewing stories on Twitter
Trending topics
In addition to the Stories page, you can explore popular trends. Look for Worldwide Trends in the left navigation pane. Here, you can find out what's trending worldwide or change it to see results in or near your hometown. Not sure what something is or why it might be trending? Click the topic to see other tweets related to that topic.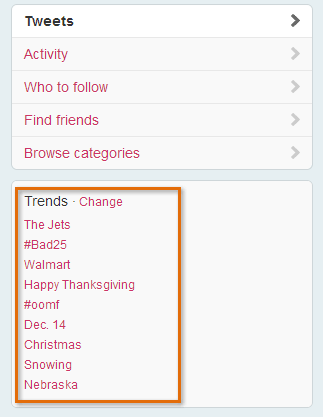 Exploring trends
See the # symbol before some of the topics? This is known as a hashtag, which is sometimes used to mark keywords or topics in a tweet, like #olympics, #london2012, #gousa, or #michaelphelps. If you see a hashtag in your timeline or trends you're interested in, click it to search for other tweets that contain the same term.
A hashtag
Activity
Click the Activity button in the left navigation pane to create a custom timeline that shows what people you follow have been doing on Twitter, including the people they have started following recently. Because you probably share some common interests with the people you follow, this could be a great way to discover new users to follow on Twitter.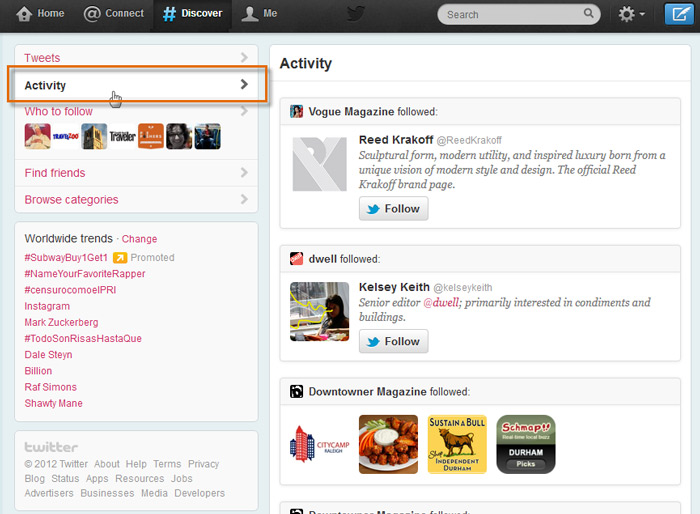 Viewing the activity of the people you follow
Searching on Twitter
Want to find out what people are saying about your business? This Friday's big movie release? The availability of the latest gadget at your local big-box store?
Now that you're feeling a little more comfortable with Twitter, you can start taking advantage of its powerful search capabilities. With unique features like hashtags and an interactive results page, searching on Twitter is a great way to find and follow even more content related to what interests you.
The search bar and results page
You can find anything on Twitter just by conducting a search. A search for the word basketball, for example, can take you to tweets about tonight's game, as well as people on Twitter who are involved in sports. All of this is possible because Twitter's powerful search tool queries the contents of every tweet and every account, then streams the results for you in real time.
By using strategies that are unique to Twitter, you can even make it part of your daily routine to search for the latest news near you, or to seek out the day's trends. Your search results will appear on the timeline. You can narrow your search results by selecting the different options in the left navigation pane: Tweets, People, Top images, and Top Videos.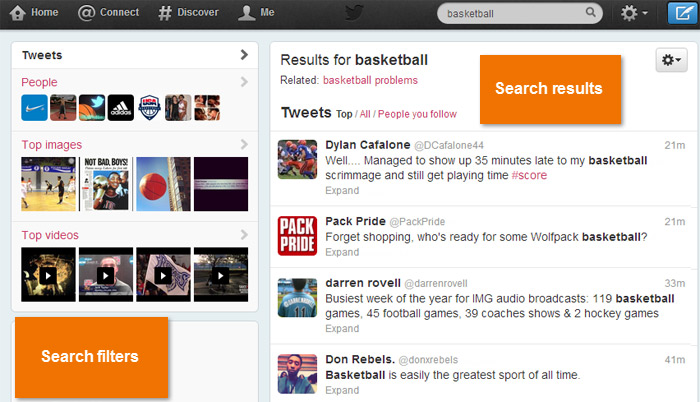 Viewing search results
If you're not getting the results you want, you can narrow your search using operators (such as quotes around the exact phrase you want to find). If you're unfamiliar with operators, Twitter's easy-to-use advanced search page can give you the same search options. Click the gear icon

below the search, then select Advanced search from the drop-down menu.
Using the advanced search
More search strategies
Saving a search: To save a search, click the gear icon below the search bar, then select Save search from the drop-down menu. Now you can continue to follow the results in real time. Click the search box to access your saved searches.

Viewing a saved search

Exploring hashtags: Click a hashtag to run a search for other tweets that use the same hashtag. Hashtags can also be entered directly into the search bar.

Viewing tweets with the same #hashtag

Using apps: Don't forget that third-party apps like TweetDeck and HootSuite provide you with their own powerful search tools. For example, both can alert you immediately when a new tweet appears in a saved search. It's probably not something you'd want for breaking news but perhaps for monitoring conversations about your company or brand.

HootSuite keyword notification