Discover what's happening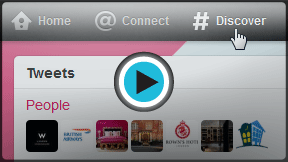 Watch the video (3:19).
The #Discover tab allows you to explore popular news stories and trending topics. Twitter is such a powerful tool for discovering news because the information on Twitter is constantly updating in real time. You can read what people are saying about a topic as it develops, long before the story might find its way to a news website or TV report.
Watch this video to find out how to explore more content on Twitter.
Tailored tweets
Click Tweets in the left navigation pane to view stories that appear based on your interests and location.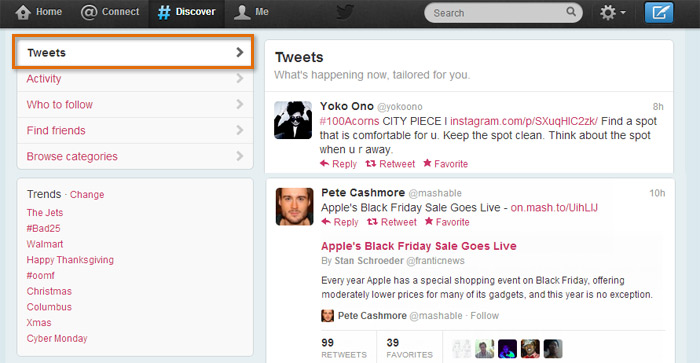 Viewing stories on Twitter
Trending topics
In addition to the Stories page, you can explore popular trends. Look for Worldwide Trends in the left navigation pane. Here, you can find out what's trending worldwide or change it to see results in or near your hometown. Not sure what something is or why it might be trending? Click the topic to see other tweets related to that topic.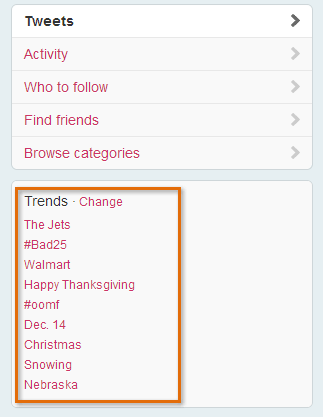 Exploring trends
See the # symbol before some of the topics? This is known as a hashtag, which is sometimes used to mark keywords or topics in a tweet, like #olympics, #london2012, #gousa, or #michaelphelps. If you see a hashtag in your timeline or trends you're interested in, click it to search for other tweets that contain the same term.
A hashtag
Activity
Click the Activity button in the left navigation pane to create a custom timeline that shows what people you follow have been doing on Twitter, including the people they have started following recently. Because you probably share some common interests with the people you follow, this could be a great way to discover new users to follow on Twitter.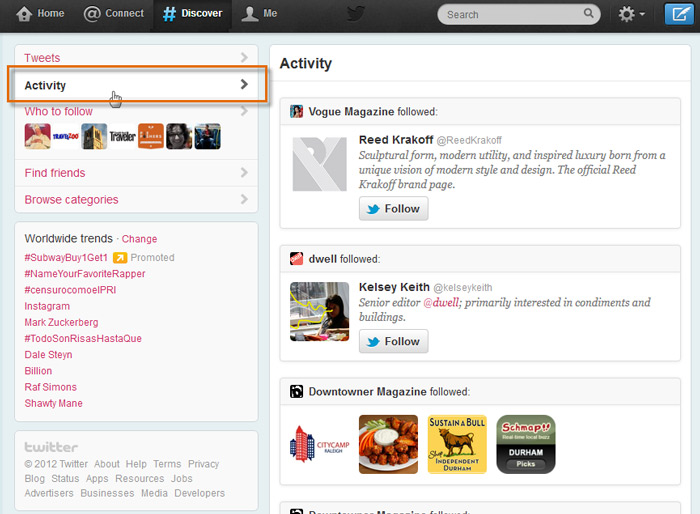 Viewing the activity of the people you follow