Searching on Twitter
Want to find out what people are saying about your business? This Friday's big movie release? The availability of the latest gadget at your local big-box store?
Now that you're feeling a little more comfortable with Twitter, you can start taking advantage of its powerful search capabilities. With unique features like hashtags and an interactive results page, searching on Twitter is a great way to find and follow even more content related to what interests you.
The search bar and results page
You can find anything on Twitter just by conducting a search. A search for the word basketball, for example, can take you to tweets about tonight's game, as well as people on Twitter who are involved in sports. All of this is possible because Twitter's powerful search tool queries the contents of every tweet and every account, then streams the results for you in real time.
By using strategies that are unique to Twitter, you can even make it part of your daily routine to search for the latest news near you, or to seek out the day's trends. Your search results will appear on the timeline. You can narrow your search results by selecting the different options in the left navigation pane: Tweets, People, Top images, and Top Videos.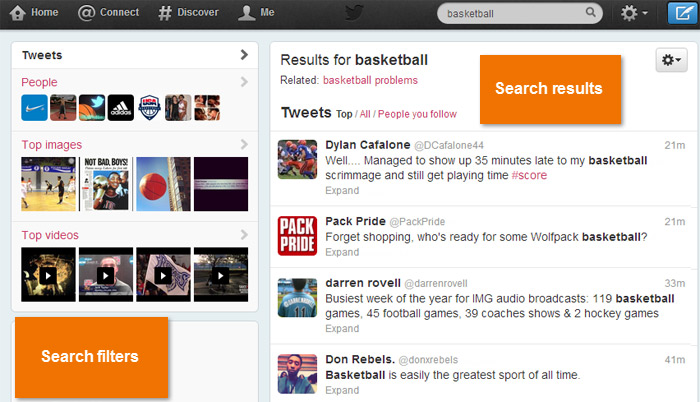 Viewing search results
If you're not getting the results you want, you can narrow your search using operators (such as quotes around the exact phrase you want to find). If you're unfamiliar with operators, Twitter's easy-to-use advanced search page can give you the same search options. Click the gear icon

below the search, then select Advanced search from the drop-down menu.
Using the advanced search
More search strategies
Saving a search: To save a search, click the gear icon below the search bar, then select Save search from the drop-down menu. Now you can continue to follow the results in real time. Click the search box to access your saved searches.

Viewing a saved search

Exploring hashtags: Click a hashtag to run a search for other tweets that use the same hashtag. Hashtags can also be entered directly into the search bar.

Viewing tweets with the same #hashtag

Using apps: Don't forget that third-party apps like TweetDeck and HootSuite provide you with their own powerful search tools. For example, both can alert you immediately when a new tweet appears in a saved search. It's probably not something you'd want for breaking news but perhaps for monitoring conversations about your company or brand.

HootSuite keyword notification