Learn about copyright and fair use issues facing writers today in this free lesson. It's especially important in the age of digital technology.
Obtaining free content
If everything on the Internet belongs to someone, how do you obtain images, music, and other materials you can use in your projects for free? The answer is through public domain and Creative Commons-licensed content. To learn more, review the tips below.
Tip #1: Use public domain content
There are no restrictions on using works that are in the public domain, which means you can use them however you want—short of claiming that you created them yourself. Unfortunately, it's not always easy to tell whether or not something is in the public domain. There may be some cases when you know for sure that a work is public domain (for instance, if you find a photo or text you are sure was published before 1923), but for the most part the best way to find public domain content is to search for it specifically.
For help finding public domain content, visit these resources:
Tip #2: Use Creative Commons content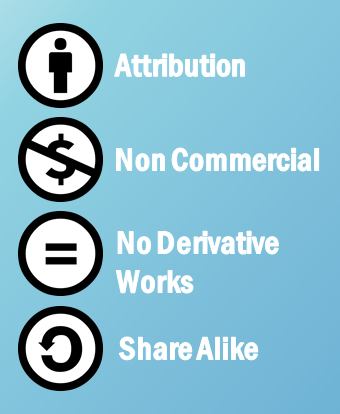 The symbols for Creative Commons licenses
Although Creative Commons content won't cost you any money to obtain, it's not totally free: To use it, you must follow certain rules. People who choose to make their content Creative Commons can choose one or more of these licenses to apply to their work:
Attribution: You must credit the creator in order to use, copy, or share the content.
Non-Commercial: You can't make a profit from the content.
No Derivative Works: You can't change the content.
Share Alike: You can change the content, but you have to let other people use your new work with the same license as the original. You can't treat any Share Alike work that you adapt as your own copyright, even if you radically change it.
For help finding Creative Commons content, try these resources:
How to tell if content is Creative Commons
To tell if a piece of content is Creative Commons, look for the Creative Commons symbol

, as well as symbols that indicate exactly which licenses apply to it. For instance, the symbols in the example below indicate that the photo has three licenses:

Attribution,

Non Commercial, and

No Derivative Works. This means you can use this photo if you credit the person who created it, don't make money from it, and don't change it.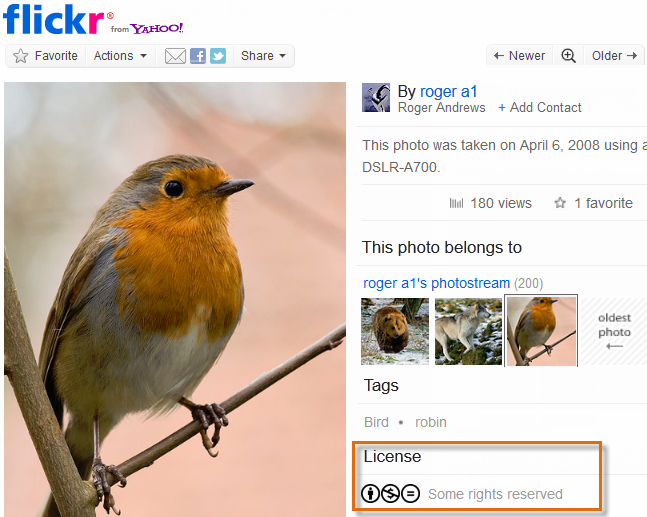 Creative Commons license information for a photo
Finding content with Google
Google allows you to filter your search results to only show Creative Commons and public domain works. When conducting an advanced search, you can choose which usage rights you want Google to search for. For example, if you're searching for an image to use in your blog, you can change the usage rights to free to use or share.

Filtering a Google search by usage rights
For more information on conducting an advanced search, review our Advanced Search Strategies page.