Whether you're writing something online or in print, putting information together is an essential component. Learn some good tactics here.
Improving your thought process
In order to synthesize information into something new, sometimes you need to take a closer look at your sources. Do you understand the text well enough draw your own conclusions about it? Do you feel confident putting your thoughts into writing?
If not, you may need to apply a few critical thinking skills. Critical thinking is a technique you can use to reflect on something you've seen, heard, or read in order to understand it (and your reaction) a little bit better.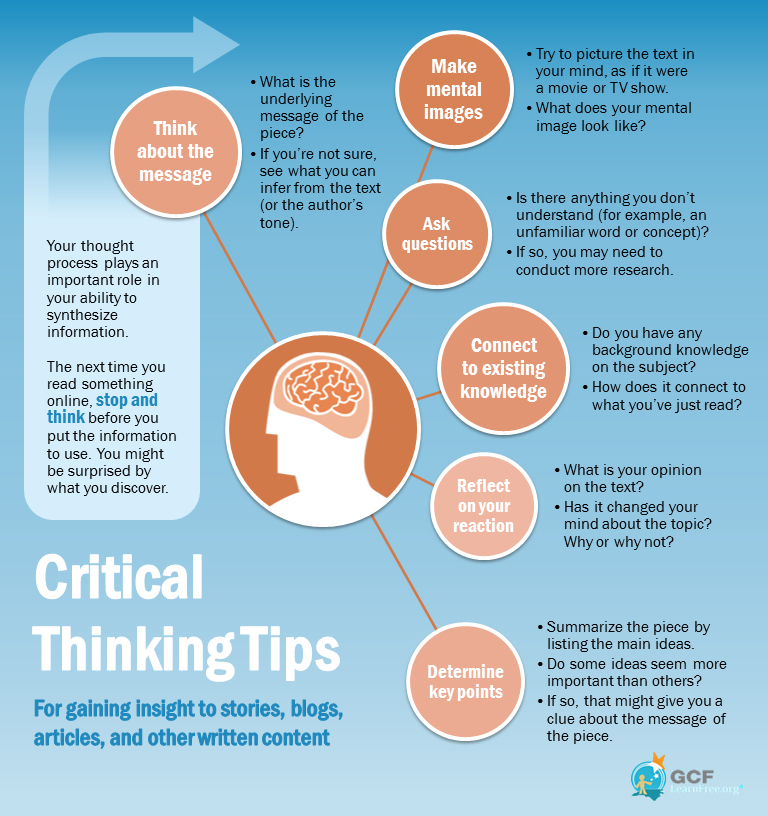 If you would like to print the above infographic, you can download the PDF version.
Read the CNN article Prom photos 'a snapshot of who we were'. (Alternatively, you can use your own example if you have a piece of writing you'd like to examine.)
Summarize. What is the message of the article? Can you list the main ideas?
Reflect. Did you go to prom in high school (or any other formal dances)? What was it like when you were a teenager?
Combine. Imagine that you're writing a blog post about the article. You want to share it with your friends and also reminisce about your own experience in high school.

What exactly do you want to talk about in your blog post?
Organize your thoughts by listing them in an outline.
Resources
For more critical thinking tips and practice, visit these websites: