In Windows 7 getting started is simple. Learn all about getting started with Windows 7 in this free lesson.
What can you do in Windows 7?
Aero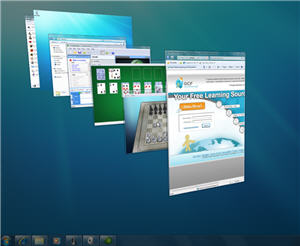 Sorting through open windows with Aero Flip 3D
Aero is an interface that makes your visual interactions with the desktop fun and easy.
Aero Peek makes your open windows transparent so you can see your desktop. It also allows you to peek at items in your taskbar for a thumbnail preview.
Aero Snap is a quick way to resize your windows to make them easier to read, organize, and compare.
Aero Flip allows you to preview all open windows from a central window or 3D view that you can flip through.
Aero Shake allows you to take your mouse and shake only the open window you want to focus on, and the rest will disappear.
Taskbar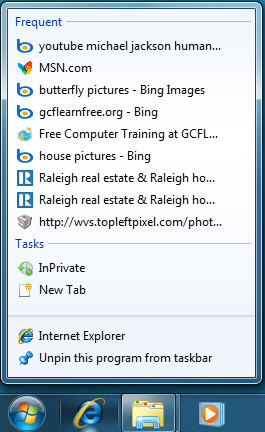 Get immediate access with Jump Lists
The taskbar is now more convenient to use, with larger views and easier access.
Jump Lists allow you to right-click an icon in the taskbar and immediately access items like music, videos, or webpages you use on a regular basis.
Pin allows you to place programs on the taskbar and rearrange the order of the icons.
Action Center allows you to control the alerts and pop-ups you receive regarding maintenance and security.
Search
Find documents fast with the new Search
As soon as you start typing in the Search bar of the Start Menu, you will instantly see a list of relevant options grouped by categories with highlighted keywords and text. This allows you to easily scan for the documents, music, pictures, and emails you are looking for.