In Windows 7 getting started is simple. Learn all about getting started with Windows 7 in this free lesson.
Libraries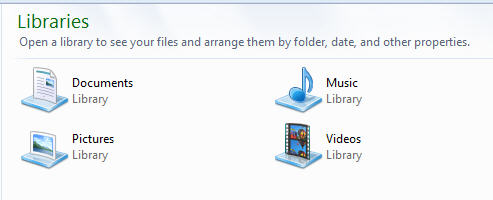 Access your files in Libraries
Libraries allow you to organize your files in one place so they are easy to search and access.

Windows 7 has four default Libraries for documents, music, pictures, and videos; however, you can customize and create you own Libraries based on your needs.
Gadgets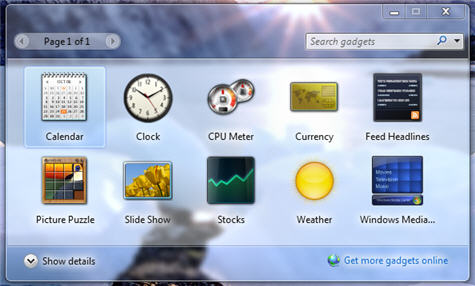 Desktop gadgets

You can select or download gadgets such as a slide show, calendar, or weather update to add to your desktop. The live updates of some gadgets like weather, stocks, and feed headlines are quite convenient.
Additional things you can do in Windows 7
Device Stage: When you plug a device into your computer such as a camera, mobile phone, or flash drive, a window will open up with a menu of popular tasks, status information, and options for your device.
Windows Live Essentials: Windows Live Essentials is free software that enhances the Windows 7 experience. It replaces Windows Mail and allows you to email, instant message, edit photos, and blog.
HomeGroup: HomeGroup allows you to connect two or more PCs on a home network to easily share and access files and printers.
Windows Touch: You can use Windows Touch with a touch-screen PC to browse and flick through the screen using your fingers with multi-touch technology.
Remote Media Streaming: With Remote Media Streaming, you can access your music, pictures, and videos stored on your home PC remotely using the Internet.