If you are just getting started with Windows 7 read this free lesson, which covers Windows 7 getting started and more.
Taskbar features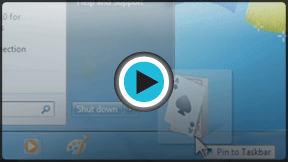 Watch the video (1:33).
Microsoft has improved the taskbar by making it easier to view and access files and windows.
Watch the video to view the improvements to the taskbar.
The taskbar view
When multiple windows are open in a program, the icon will look "stacked" on the taskbar.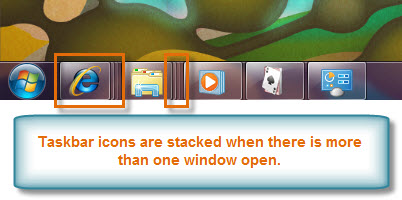 Stacked icons on the taskbar
Aero Peek will show you a thumbnail of each window when you hover the mouse over the icon on the taskbar.

Viewing open windows with Aero Peek


If you wish, you can change the order of the icons by clicking and dragging the icon to whatever space you desire on the taskbar.
Pin a program to the taskbar
You can Pin programs to the taskbar and access them with a single click of the mouse.
To Pin a program, drag it to the taskbar and release.

Pinning a program to the taskbar

To Unpin a program, simply right-click on the icon and select Unpin.

Unpinning a program

Access a Jump List
A Jump List is like a mini-menu for a program. It allows quick access to recent files, frequently viewed items, performance tasks, and more. For example, you can select frequently used websites with a simple click from the Internet Explorer Jump List.
Right-click an icon to open the program's Jump List.

A Jump List for Internet Explorer