If you are just getting started with Windows 7 read this free lesson, which covers Windows 7 getting started and more.
More taskbar features
Click the buttons in the interactive below to learn more about the additional taskbar icons.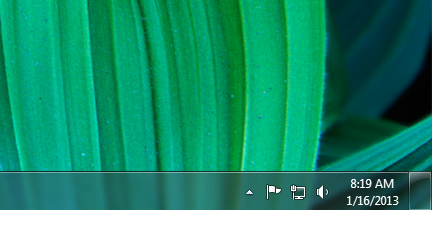 Show Desktop button
Hover over the button to Peek at your Desktop or click on the button to clear your Desktop.
Speaker Volume
Click to mute or adjust your volume setting.
Action Center
Select to view notifications and access Action Center. A red X will appear on the icon when you have notifications waiting.
Hidden Icons
Select to view additional icons and to customize your Taskbar.
Internet Access
Select to access the Network and Sharing Center to connect to the internet.
Show desktop
To Peek at the desktop without closing windows:
Hover the mouse over the Show desktop button.

The Show desktop button

The windows will become transparent, allowing you to see the desktop.

Viewing the desktop


Click the Show desktop button to close the windows.
Click again, and the windows will return.
Action Center
Older versions of Windows had pesky pop-up notifications that appeared whenever there was a security issue or warning regarding an action you were taking. Windows 7 allows you to customize how often you view these notifications through the Action Center. The Action Center icon in the taskbar will allow you to view and take action on any notifications you have received.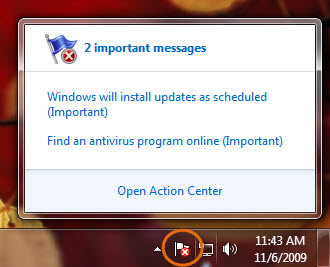 Action Center notifications