You can install Windows 7 on your computer using the Windows 7 installer instructions provided in this free lesson.
Installing devices and hardware
Microsoft's tutorials should have provided specific instructions for installing devices and hardware, but we would still like to point out a few key things you may need to be aware of.
Many of your devices, such as cameras and mobile phones, will be recognized by Windows 7 Device Stage and can be installed by simply plugging them in to your PC. Microsoft created Device Stage to make working with devices easier. Upon plugging in, Device Stage will provide a "homepage" with a menu of tasks, updates, and options for compatible devices and printers.
If you are having trouble installing hardware, go to Microsoft's Update a Driver tutorial for instructions on Windows Update, downloading drivers, and installing printers.
Windows 7 has a new Devices and Printers folder where you can view and access everything that is connected to your computer.
Go to the Search bar and type Devices and Printers to locate this folder.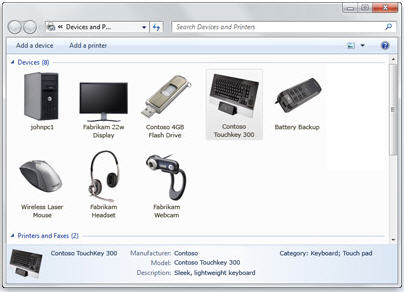 Devices and Printers folder
If you want to check if the hardware you may be purchasing in the future is compatible with Windows 7, go to the Windows 7 Compatibility Center.