Enhance your Windows 7 security and maintenance using the Windows 7 action center. This free lesson shows you how.
Windows 7 troubleshooting
Not all computer problems will be shown in the Action Center. For example, you may be having trouble with a particular program or device, or with connecting to the Internet. For these types of problems, you will want to view troubleshooting options.
To get there, click Troubleshooting at the bottom of the Action Center pane.

Access Troubleshooting
In the Troubleshooting pane, you will see several programs called troubleshooters, which help you identify and fix problems with your software and hardware.
Click the buttons in the interactive below to see information about some useful troubleshooters. Note that your computer may have a slightly different list of troubleshooters.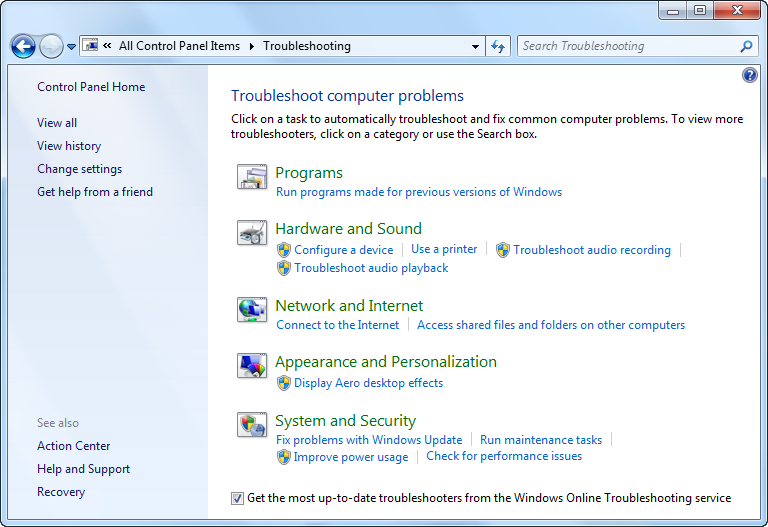 Appearance and Personalization
Use these options to troubleshoot issues with the Windows 7 Aero effects.
Windows Online Troubleshooting
Check this box to download the most recent troubleshooters from Microsoft automatically.
System and Security
Use these options to fix problems with the latest Windows Update and to perform maintenance tasks.
Network and Internet
Use these options to address issues related to connectivity and file sharing.
Hardware
Use these options to fix issues related to an external device, like a printer or monitor.
Programs
Click here to troubleshoot issues with applications that were designed for previous versions of Windows.