If you're new to Windows 8 getting started can be confusing. This free lesson offers tips on how to get started with this operating system.
Coping without the Start menu
One of the biggest complaints about Windows 8 is that it doesn't have a Start menu. The Start menu was a very important feature in previous versions of Windows, as it was used to launch apps, search for files, open the Control Panel, and shut down the computer. You can still do all of these things in Windows 8, but they're now found in different places.
To launch an app:
There are several ways to open an app in Windows 8:
Click the app icon on the taskbar.




Opening an app from the taskbar

Double-click the app shortcut on the Desktop.

Opening an app from a shortcut

Click the app tile in the Start screen.




Opening an app from the Start screen
To view all of your apps, click the arrow in the bottom-left corner of the Start screen.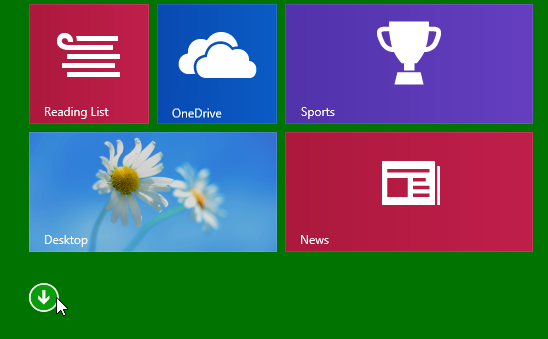 Navigating to all apps
To search for a file or app:
Press the Windows key to switch to the Start screen, and then type what you're looking for. Your search results will instantly appear below the search bar. A list of suggested web searches will also appear below the results.




Searching for a file
For more information about searching, check out our Using the Search Feature lesson.
To open the Control Panel:
From the Desktop view, hover the mouse in the lower-right corner to access the Charms bar, then select Settings.




The Settings charm

Locate and select Control Panel from the Settings Pane.




Clicking Control Panel

The Control Panel will appear. You can then select the desired setting to change it.




The Control Panel
To shut down your computer:
Hover the mouse in the lower-right corner to access the Charms bar, then select Settings.




The Settings charm

Click Power, and select Shut down.




Shutting down the computer