In Windows 8 Internet Explorer is the current default web browser. Learn all about using Windows 8 IE together in this free lesson.
The address bar
The Internet Explorer address bar allows you to navigate to websites and search the web. You'll find the address bar at the bottom of the screen. As you enter a search term or URL, the address bar will offer suggestions for webpages and search terms, which makes navigating the Web faster and easier.
To use the address bar:
Navigating to a website: Type a URL in the address bar and press Enter on your keyboard.

Typing in a URL

Searching the Web: Type a search term in the address bar and press Enter.

Entering a search term

Suggestions: As you type in the address bar, suggestions will appear. You can click one to use a suggested address or search term.

Selecting a suggestion
If you don't want the browser to suggest search terms as you type, click Turn off suggestions from Microsoft.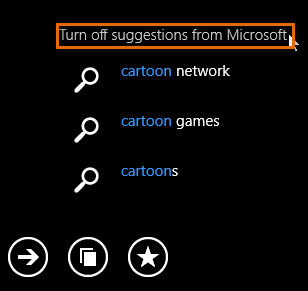 Turning off suggestions