The Windows 8 Mail app is where you can manage and view your email messages. Learn more about using the app in this free lesson.
Sending email:
You'll use the Compose pane to write and send messages from the Mail app. From here, you'll add the email address of the recipient(s), the subject, and the body of the email, which is the message itself.
To compose a new message:
Locate and select the New Message button.




Clicking the New Message button

The Compose pane will appear.




The Compose pane

You'll need to add one or more recipients. There are two ways to add recipients: You can either type one or more email addresses, separated by commas, or select the word To to choose recipients from your contacts.




If you choose to add a recipient from your contacts, the People app will open. Choose the desired contact(s), and then select Add.




Adding a recipient from the People app

Type a Subject for the message.




Adding a Subject to the message

Type the body of the message. If you want to attach a file, save a draft, or include special formatting, such as font styles, bolding, or italics, right-click to open a menu at the bottom of the screen.




Compose options with the right-click menu

When you are satisfied, click the Send button. The message will be sent, and the inbox will appear.




Clicking the Send button
If a recipient is already one of your contacts, you can start typing that person's first name, last name, or email address, and the contact will appear below the To field. Press Enter to add the contact as a recipient.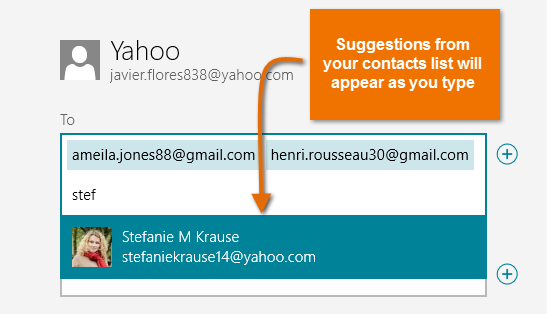 Adding an existing contact as a recipient